By Tina Mortimer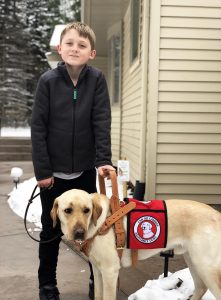 12-year-old Aidan has a big personality, which makes him naturally at ease in front of a camera—a good thing since he's been on camera quite a lot lately. He's appeared in educational videos for his middle school, his Boy Scout troop, Can Do Canines, and most recently, in a story for Fox News. The network featured Aidan and his Mobility Assist Dog, Abbot, for being the 700th pair brought together through Can Do Canines. This was a huge milestone, not only for Aidan and Abbot but for our 30-year-old organization.
Hearing Aidan speaks, you'd never guess he is only in the sixth grade. He is thoughtful, articulate and unusually self-possessed for a middle schooler. Yet these aren't the only qualities that make this North Branch, Minnesota kid unique. He also happens to suffer from a rare form of muscular dystrophy called Charcot-Marie-Tooth (CMT), and the even rarer subset of the disorder, Type 4-C.
CMT4 is a neurological disorder that causes damage to the peripheral nerves—tracts of nerve cells that connect the brain and spinal cord to muscles and sensory organs. It causes muscle weakness, mainly in Aidan's hands and lower extremities.
That means doing simple things that most people take for granted—like walking down a flight of stairs or navigating a crowded school hallway—are extremely difficult for Aidan.
"He just doesn't have the same muscle strength as the rest of us to be able to walk, open doors, you know, open a bottle of water, open the microwave," explains Aidan's mother, Adrienne. "Things like that."
Living with Abbot, Adrienne said, has helped Aidan tremendously—especially when it comes to his balance.
"Abbot is able to steady him when he walks, and he helps him open doors and drawers," she says. "It really helps us out when we're getting him ready in the morning, Abbot can help him get his shoes."
Far Surpassing Expectations
It is because of Adrienne that Aidan and Abbot are together. A Minnesota native, Adrienne was familiar with Can Do Canines, but it didn't click for her to reach out to us for help with Aidan until she saw an ad on TV.

"I knew a dog would be able to help Aidan," she says. "I wasn't sure everything they would be able to do, though. The depth and breadth of Abbot's skills are amazing and far surpassed my expectations. He is so smart."
And what does Aidan think of Abbot?
"My first thought was that he was adorable," he admits. "But I was pretty nervous when I started training because I thought I was going to fall a lot. I didn't think I was ready. I thought he would be like my other dog, Remy, that he would jump on me or trip me when we're walking."
Of course, Abbot does neither of those things. He does, however, like to play with his new buddy, Remy, when he's not assisting. Like all Can Do Canine dogs, he gets along well with his peers. While Abbot isn't the only canine in the family—Abbot's "siblings" include Remi, Daisy, and Raven—he is certainly the most helpful.
Aidan and Abbot have only been living together for a few months, but they're already best friends. And now that the pair have bonded, Aidan is excited to have Abbot join him at school.
"Kids can be wild," Aidan says. "The best part of having Abbot at school is that he's going to keep me from getting knocked over! It's been good having him in my life. I love him. He fits in with the family. But Remy is still the boss—unless I'm around. I'll protect Abbot."
A Year of Milestones
Thanks to you, 2019 was a year of milestones at Can Do Canines. It marked 30 years of match-making, with Aidan and Abbot being our 700th placement in the three decades. And because of your continued generosity, we aren't stopping at 700 teams. This winter, 33 new teams began working together. For every pair we train, the world becomes a kinder, gentler, easier-to-navigate place for our clients.
With your help, we can reach even more clients and even greater milestones. Your donations make it possible for Can Do Canines to provide one-on-one training with clients like Aidan. Visit can-do-canines.org/donate.
View coverage of Aidan and Abbot on Fox 9+: https://www.fox9.com/news/minnesota-organization-places-its-700th-dog-with-local-boy-battling-disorder
Thank you to all those who made this partnership possible:
Great Start Home: Tonya Wahl
Special Thanks: Stanley Correctional Institution
Whelping Home: Tonya Wahl
You: Thank you for your donations!