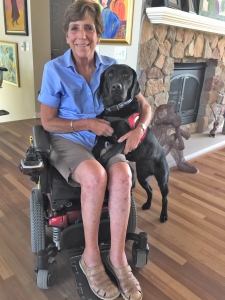 Marilyn Chazin-Caldie & Mobility Assist Dog Checkers
Marilyn Chazin-Caldie doesn't want to be slowed down. A retired statistician, she lives in Medina, Minn. with her husband Patrick. Despite being diagnosed with Multiple Sclerosis and Behcet's Disease—both of which have caused the inability to walk—she remains active and pursues her interests.
"I am involved in pottery and photography classes," Marilyn says. "I like to take 'walks' to photograph at zoos, arboretums, museums—often alone."
While she does her best to stay independent, multiple sclerosis has taken its toll. Marilyn uses a wheelchair to get around and suffers from daily back and leg pain. She finds herself tiring easy from activity and—as MS is a progressive disease—she has increasing difficulty using her arms.
One day, Marilyn was talking with a woman at the Courage Kenny Rehabilitation Institute who had an assistance dog. Marilyn learned that the woman's dog was trained to help overcome many of the same obstacles she was facing. Tuned into the idea of assistance dogs, she started to notice a lot of "red vests" around. That's when she applied to Can Do Canines for help.
Meanwhile, a two-year-old black lab named Checkers was working his way through the training program.
"Checkers is a very sweet boy," wrote one of his Foster Home volunteers. "We've nicknamed him Mr. Checkers. When Checkers is dressed in his cape and Halti, he is such a different puppy. It's like he has a tuxedo on. He walks proud, tall, and prances like he's walking on air. He is such a lovable, smart puppy—we are sure he will make an awesome assistance dog."
Checkers has fully lived up to his reputation. Partnered with Marilyn as a Mobility Assist Dog, he indeed makes an awesome assistance dog. The lab excels at retrieving items that Marilyn drops.  From silverware to laundry, Checkers can fetch it all with a happy wag of his tail. He can even retrieve Marilyn's purse! Extra helpful, says Marilyn, is that Checkers has been trained to bring her the telephone when she needs it.
"He's really cute, because he latches on to it with his mouth—usually dialing someone while he brings it to me," she says.
As Marilyn can become easily fatigued from activity, anything Checkers helps with is greatly appreciated. She fully realizes Checkers' value through all the energy she saves from everyday tasks.
"In the mornings, I can say, 'Checkers, go and get the paper! And he'll run and get the newspaper for me. He's a devoted puppy."
Checkers affords Marilyn a new level of contentment and security. She finds herself getting out more in public more and meeting new people.
"In the past I would want to go to more remote places, but I didn't feel comfortable. Being in a wheelchair, I felt vulnerable," Marilyn says. "Now, I feel so much more comfortable going places and having Checkers with me."
Marilyn is grateful not only for the hard work of the trainers and Puppy Raisers, but to everyone for their contribution in raising her assistance dog.
"I read through all of the notes about Checkers and everyone wrote, 'whoever gets this dog is going to be a very lucky person,'" Marilyn says. "And I feel like the luckiest person in the world. I do. I really do. I can't really thank everyone for being so kind and wonderful to him. He's the nicest dog there could be—the sweetest boy."
Thank you to all those who made this partnership possible:
Puppy Raiser—The Inmate Handlers at the Federal Correctional Institute at Waseca
Dog Source—Martha Anderson
Long-term Foster Homes—Mitch & Wendy Peterson
Name-A-Puppy Donor—Steve & Caroline Melberg