When we do everything we can to stay healthy, a medical emergency can bear an especially traumatic shock. Two years ago, Gary was on the treadmill at Lifetime Fitness when he went into cardiac arrest. Someone there used the AED paddles to revive him. At the hospital, Gary had a stent put in. However, a complication from blood thinners caused hemorrhaging in his spine and paralyzed him from the waist down.
Gary feels lucky to be alive, but despite six weeks of rehab, he's had to relearn basic skills. Striving to adapt and safely maintain his independence, he admits it has been rare for him to ask others for help. For example, Gary often has multiple objects in his lap, and items frequently fall to the ground. He has figured out how to get items back most of the time, but sometimes these actions have caused more issues. In one case, his foot had fallen off the footplate, and without being able to feel it happen, he wound up with a scraped up foot before realizing it was dragging on the ground.
A Light in His Life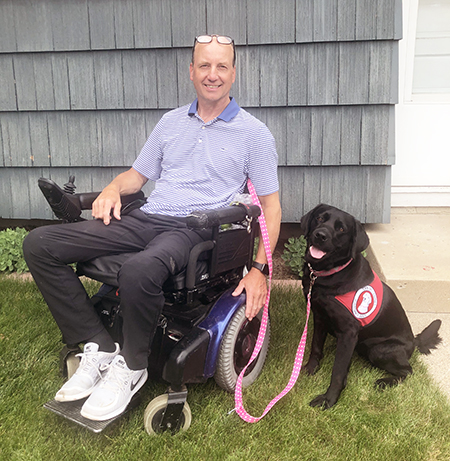 Gary has been around dogs his whole life, so his son's fiancée suggested he consider having an assistance dog for this new journey. His "travel companion" would soon be Elena. Elena is a 2-year-old black Labrador Retriever with a zest for the caretaker life. She is persistent and patient, a wonderful partner for a hard-working engineer. Gary remembers the day they met and her joyous willingness to engage with him. He was thrilled to again discover a new quality of life. He says, "The love others have shown her, I can see that." Looking back, Gary can't imagine life without his canine companion and is tremendously happy for the opportunity.
When the team is out, Elena pushes the buttons that open automatic doors and retrieves objects from the floor. Elena is always assisting with retrieving items at their Richfield home too. Plus, she tugs open his refrigerator, pulls open lower and heavy drawers, opens and closes the front door that leads to the ramp, and even helps turn his lights on and off. Gary is especially grateful for her help when he doesn't have to go through all the effort of leaving bed to engage the light switch. One time when he was bandaging his feet, it got dark in his room, and Elena was able to turn the lights on so he could properly continue his treatment. Tasks we perceive as "simple" take Gary time and effort—both precious resources that Elena is now able to save for him.
Grateful for the Care She's Been Given and Gives
The team has worked especially hard to handle the COVID-19 experience and still take on a beneficial adjustment to new routines. Their bond is almost tangible. It's easy to see how they function together with trust and care.
To those who shared what they could to bring Elena to him, Gary says, "Thank you all so much. I can't even imagine how much work went into her and all the dedication. That you've spent your time and expertise to train her so she could be so helpful to someone like me… it's truly amazing."
"I'm excited to have her and be a part of the Can Do Canines family," shares Gary, as he plans to pay it forward and help make more dogs like Elena possible for others.
Thank you to all those who made this partnership possible:
Great Start Home: Elizabeth Reberk
Puppy Raiser: Jackson Correctional Institution
Special Thanks: Holly Schultz, Gordon & Susan Garnett-Thomas, the FETCH Program
You: Thank you for your donations!