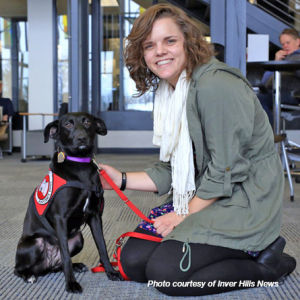 Megan Schmidt & Hearing Assist Dog Lila
No one is quite sure why Megan Schmidt started losing her hearing when she was just three years old. But throughout the years she has managed to find ways to compensate and pursue an independent life. First, her parents got her a hearing aid. As she got older and her hearing loss progressed, she received a cochlear implant. Years later, she received a second implant. These tools are certainly helpful, but they don't fully remedy her situation.
"I now have two cochlear implants, which have done wonders for me," she wrote in her application to Can Do Canines. "But at night when I don't wear them—or if I'm in a large crowd or a noisy place—I can't hear well, or not at all."
In the past, Megan lived with her family, which provided a certain level of comfort and security. Now, as a 22 year old graphic designer living on her own in Hampton, Minn., she realized she needed more help.
"Growing up I always had my parents looking out for me," she says. "They were always around if there were strange noises or alarms or visitors. Now that I live on my own, I can't rely on other people anymore."
This is where Lila, a two-year-old terrier mix, comes in. Lila is a rescue from the Animal Humane Society. As a Hearing Assist Dog Lila is trained to alert Megan to sounds such as smoke alarms, timers, and door knocks. When one of these sounds occurs, Lila bounds over to Megan and alerts her to the sound. Lila has even learned to alert Megan to dropped items.
"In most instances someone would notice if I dropped something and let me know. But I'm alone most of the time, so it's a huge help," Megan says.
While her job is alerting Megan to sounds, the intangible benefit that Lila provides is even more important—the knowledge that Megan's safe.
"It helps to have that reassurance," Megan says. "I don't have to pay attention to everything on my own. It's not always on me."
Megan and Lila are well known at the college where Megan works, and Lila is always by her side. Megan explains that everyone at school loves having her around. So much in fact, that she has to remind them to resist their urge to snuggle.
"I know how hard it is, because she's so cute!" Megan says.
To the Puppy Program Volunteers and donors, Megan expresses her appreciation for bringing such a helpful ball of joy into her life.
"Thank you so much," Megan says. "It's definitely been life changing for me and others. It gives us that extra level of being able to live life on our own. It wouldn't be nearly as easy without the dogs that Can Do Canines provides."