By Mary Gunderson
Roy and his wife, Paula, started financially supporting Can Do Canines more than 20 years ago with no thought of becoming an assistance dog family. About two years ago, Roy noticed his hearing wasn't as sharp. While it's not unusual for a person in their 60s to lose some hearing ability, Roy's loss was steep and fast.
"I became quite limited without hearing aids," Roy says. Last summer he was faithfully reading Can Do Canines' quarterly Tails for You. The article "What are You Waiting For?" stopped him. "I was reminded, if you qualify for an assistance dog, don't wait."
Yet, the couple still wasn't quite ready to make the leap, knowing the impact of a Can Do Canines assistance dog, as well as the significant investment and training that goes into every dog. "I was a little reluctant to burn up resources for the organization," he says.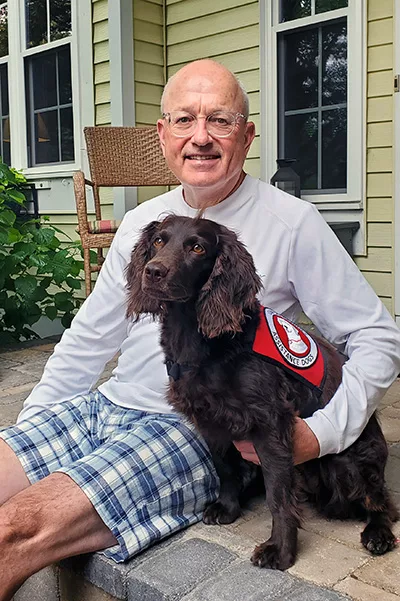 After affirmation from Roy's audiologist, the couple had something to bring to the assistance dog partnership: their beloved Boykin Spaniel. Brown-haired, soulful-eyed Wrigley was just under the 4-year-old age limit to train as a Can Do Canine.
Roy, a former practicing veterinarian, and Paula, a longtime speech and language clinician for children, had trained and loved a succession of Golden Retrievers, keeping a steady household of two or three Goldens at a time. "We are dog wired," Roy says. Wrigley learned the same obedience skills and companion skills important to the family's active life, including backpacking and canoe trips. Wrigley had many of the qualities expected in a Golden, but at about 30 pounds, is less than half the weight." We down-sized our dog," Paula says.
Aware of the mandatory six-month training program for owner-trained dogs, Roy had confidence he and Wrigley would be certified in a couple weeks, due to her intelligence. The scope of training was far beyond Roy's expectations. And, it took the entire six months. He emphasized his appreciation for the time and energy the trainers put into making the team a success, saying, "It was incredible how cool the two trainers were and how much we learned." 
Well-behaved Wrigley had to know her hearing job took priority over anything else, Paula says. To do that, Wrigley had to disregard some of her training to that point. "She had to learn 'intelligent disobedience'," Roy says. For example, "I trained her for 10-minute stays. As a Hearing Assist Dog, if she hears the fire alarm at the five-minute mark, she needs to respond to that and ignore the 10-minute-stay rule."
The first few days of that lesson, Wrigley wasn't having any of it. "She wouldn't do a thing," Roy says. "The trainers told us not to worry, she'd get beyond it.' And she did."
The trainers—along with Roy and Paula—proved to be flexible, using virtual training sessions while the couple was traveling last winter. And, Roy says, "It really helped that Paula filmed the practice sessions."
Paula happily ceded the tasks that she had previously taken on to Wrigley: alerting Roy to the doorbell, cooking timer, and fire alarm. "I was the [original] assistance dog," she says to Roy's agreement. "I taught her everything I know," Paula jokes. "And she's still a pet to be snuggled."
Wrigley certified as a Hearing Assist Dog in June. "I'm glad to have her trained," Roy says. He also observes that Wrigley's skills will benefit him more and more as his hearing continues to decline.
Further, Wrigley is the first Boykin Spaniel known to qualify as an assistance dog. Roy and Paula, along with the Boykin Spaniel Breeders group, hope she will be the first of many to join the dog assistance ranks.
Roy and Paula's enthusiasm for supporting Can Do Canines has only increased. "Now that we're retired," Paula says, "we're able to get more involved." Roy and Wrigley plan to be on the speaking circuit to raise money for Can Do Canines. Roy is also investigating how he can assist with the Can Do Canines Prison Program.
Wanting to spread the word to everyone they can about how they've experienced the organization, Roy says, "We need to keep telling the Can Do Canines stories."