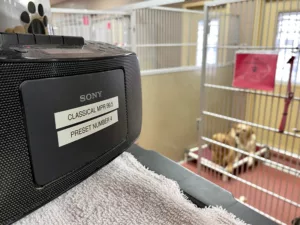 It's no secret that dogs have better hearing for certain sounds and pitches. But does it matter if you play Mozart, Bob Marley, or Metallica around your furry friend? Some say, "yes!"
At Can Do Canines, we play classical music in our kennels. Executive Director Jeff Johnson was recently interviewed by Minnesota Public Radio to discuss how listening to MPR's classical music station has been shown to have a calming effect on our dogs. 
In fact, research has been done to address how some sounds—particularly music—can affect dogs' behavior. According to Cambridge University Press, a 2002 study by Wells et al. (2002) found that "dogs spent more time resting and less time standing when classical music was played than when any of the other stimuli were played. Exposure to heavy metal music encouraged dogs to spend significantly more of their time barking than did other types of auditory stimulation."
Another study (from Leeds J, Spector L, Wagner S.; 2005-2007) took these findings a step further. Their Bioacoustic Research & Development (BARD) Canine Research Summary suggests that any classical music will help a dog calm enough to lie down, but a solo piano with simplified arrangements at 50-70 beats per minute addresses specific anxiety behaviors more effectively.
According to a newer study in 2017, published in the journal of Physiology and Behavior, dogs prefer the sounds of reggae or soft rock even more than classical, pop, or Motown music. These authors believe that dogs (and their owners) could benefit by playing reggae or soft rock for their dogs, especially during high-stress situations.
Leeds and Wagner went on to write a book in 2008, Through a Dog's Ear: Using Sound to Improve the Health and Behavior of Your Canine Companion. In that, they state, "Sound is so important to dogs that their ears move constantly, like a radar dish, tuning in to sounds that we can't even perceive."
Considering that, maybe you want to conduct your own home study with your canine, keeping in mind that sound can have an incredible influence on their mood and temperament.