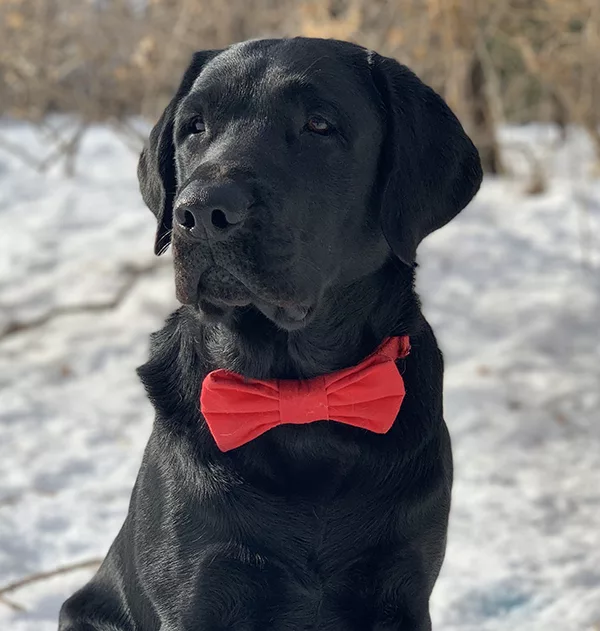 It's no secret; Arnold is a stud! Literally, he serves as one of our stud breeding dogs, and he is known for showing up for his breeding dates wearing a bow tie. He's there to impress the lady and sweep her off her paws.
Our breeding program is more than just the birds and the bees between dogs, though. It's about cooperation. As an Assistance Dog International accredited member, Can Do Canines is invited to participate in the International Breeding Cooperative (IBC). We have been a part of this coop since its inception in 2013, and currently are one of 54 international members.
Director of Training Julianne Larsen says that being part of IBC is "a way for us all to work together to increase genetic diversity, allowing much better chances of having healthy dogs." She explains, "We want an inbreeding coefficient that is as low as possible to reduce risks of different kinds of illnesses that are recessive."
As a member, this means that we not only are able to accept a dog from another organization when we are at the top of the queue, but we also share puppies each year with our fellow IBC organizations. During our thorough and regular evaluations of our dogs, beginning when they are seven weeks old, dogs selected to be part of the coop have received high rankings for structure, temperament, and other essential qualities.
Additionally, our stud dogs, like Arnold, may participate by having semen from them flown to a waiting female dog. While Arnold can't charm her with his good looks, perhaps he somehow knows that this role in this online dating exercise is equally important.
After all, doing everything to ensure healthy dogs puts a bow on raising the best possible assistance dogs for those who need them.