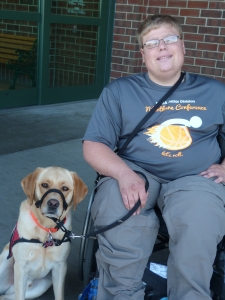 Cory Anderson & Mobility Assistance Dog Paddington 
When asked what it felt like to officially certify with Mobility Assist Dog Paddington, Cory Anderson of Sioux Falls, S. Dakota says, "It's awesome! It just feels so good to be actually a team."
In speaking with Cory, he sounds like your everyday twenty-five year-old. He enjoys his work, loves hunting and spending time with friends and family. But since birth, Cory has grappled with spina bifida. Spina bifida occurs in an infant when the backbone and membranes do not completely close around the spinal cord. The effects of spina bifida can be mild or severe. In Cory's case, he has paralysis from the waist down, which poses significant mobility limitations in his day-to-day life. He has constant back pain from previous surgeries and experiences sharp pain when he reaches for objects that he drops.
Despite his disability, Cory has worked hard to maintain his independence. He uses a wheelchair to stay active, lives in his own apartment and works part-time at Costco. But some days his disability gets the best of him. On those days he was finding he could use a little assistance.
Cory first learned about Can Do Canines when he went hunting with friends—one of whom was a recent graduate of Can Do Canines. When Cory saw how dedicated and hard-working Can Do Canines assistance dogs were, he decided it was time to send in an application.
After applying, Cory was matched with Paddington, who he lovingly calls "Paddles." Paddles is a two-year-old, Labrador retriever trained to be a Mobility Assist Dog. When asked what it was like to go through the Can Do Canines training process, Cory explains that, "it's not like any other training. You have to be strict, but kind at all times."
Cory would like others who are interested in applying for an assistance dog to make sure they understand that it is a commitment and that it requires work.
"Make sure you are dedicated and that you want it," Cory says. "Make sure you are willing to put in the time to work with the dog. It is a lot of hard work, but it is rewarding in the end."
Paddington is trained to assist Cory with opening drawers, opening and closing doors, picking up dropped items and retrieving items that are out of reach. When asked what the most significant thing Paddles helps with, Cory says, "Everything! But, if I have to choose, it would be having him pick up items from the floor, so I don't have to experience the back pain when I bend over."
Paddles also goes with Cory when he goes on errands and even special events.
"I've taken him to the mall, restaurants, and a wedding—he was a big hit at the wedding."
Cory would like to thank everyone who made Paddles a possibility in his life because, in his own words, "I love him to death."
To those that contribute to Can Do Canines, Cory says, "I would say thank you because it helps people like me that are in need of assistance dogs so much. Thank you, because without you, I wouldn't have my Paddles."
Thank you to all those who made this partnership possible:
Puppy Raiser—The Hollerud Family
Long-term Foster Homes—The Inmate Handlers at the Federal Correctional Institute at Sandstone