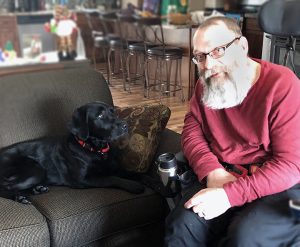 Tim and Mobility Assist Dog Leonard
Uncertainty and a pressing need
Tim wasn't sure what to expect when he first applied for an assistance dog. Yet, since Mobility Assist Dog Leonard came into his life, every day has held many life-changing experiences.
Tim is living with primary progressive multiple sclerosis, and when he first sought out an assistance dog, his biggest need was help retrieving dropped items. Only five years, he was fully ambulatory. Since then, his multiple sclerosis has progressed and he now requires daily use of a wheelchair. His needs require a unique partner and Leonard is a perfect match.
According to Tim, "He's a fast learner…He's kind of like a blank slate." Leonard has advanced from picking up things to understanding Tim when he struggles with speaking late in the day.
Change in the community
It's not only Leonard getting an education. Tim is one of the first assistance dog handlers in his community to use public transit. "I was surprised that our paratransit has never worked with any assistance dogs … It was a real learning experience for them," says Tim. The head of the area paratransit has been in frequent contact with Tim and has ensured that their staff will learn best practices by working directly with Tim and Leonard.
While some public service providers are still learning, the kids seem to have it down. Tim has been surprised at how many people understand that they should not interfere with Leonard in public. He remarked that the most informed are children, and he often hears them tell their parents that they should not play with a working assistance dog.
A grateful heart
The many efforts of volunteers, donors, and staff not only provided Tim with his perfect partner but have given Tim's community a chance to learn about the important work assistance dogs perform. "The work that many, many people have done to get Leonard to where he is … it's not enough to say that we're grateful," expresses Tim.
With your help, we can reach even more communities. Your donations make it possible for Can Do Canines to provide one-on-one training with clients like Tim. Visit can-do-canines.org/donate.
Thank you to all those who made this partnership possible:
Puppy Raiser: Peggy Slater
Special Thanks: Stanley Correctional Institution
Whelping Home: Holly Schultz
Breeder Host: Holly Schultz
You: Thank you for your donations!