When Megan and Ryan began looking into assistance dog organizations to apply for a dog for their son, Nolan, several years ago, friends suggested they put their name on multiple waiting lists. Megan knew the practicality of that approach, but admitted she only wanted to work with one. "I really heard amazing things about Can Do Canines," she remembers. So they decided, "If it's meant to be, it's meant to be."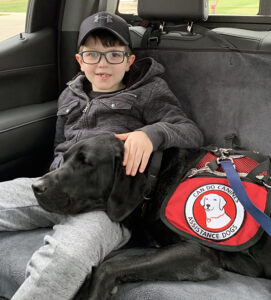 This past fall, fate gave them that answer, as Nolan was matched with a fun-loving black Labrador Retriever, Nitro. And it didn't take long for the family to begin seeing a variety of ways that Nitro was making a difference.
Nitro eases Nolan's anxiety. Megan explains that Nolan has always struggled with being anxious, but she said that changed right away when Nitro entered their family. "Instantly, Nitro has lowered that anxiety on a daily basis," she explains. Nitro seems to give purpose and structure to Nolan, who is responsible for feeding Nitro.
Nolan's parents have greater peace of mind. Megan's own stress has decreased too, because she has Nitro to help control unpredictable public situations, such as when Nolan might not be paying attention in a parking lot or would want to wander off in a store. Nitro helps keep Nolan safe, and Megan says having Nitro and Nolan tethered and then connected to her offers peace of mind. "We're not always in a heightened state," she explains. "It makes the whole environment more calming for all of us."
Nolan's communication skills are increasing. Since welcoming Nitro, Nolan has become more verbal. He talks to Nitro, gives him commands, asks him questions, and reads to him. "His speech has really stepped up," says Megan.
Nonverbal communication has also been keeping up with its louder cousin. Megan and Ryan report that Nolan's eye contact and other social cues are transferring from what he's practicing with Nitro to his interactions with people. Also, just watching how Nolan expresses himself with Nitro is proving beneficial for his family members. Megan reveals, "I've always dreamed and wished to get inside his head. What is he thinking? How is he feeling?" She says that watching what he does with Nitro, such as giving a hug, initiating pressure therapy, etc., offers a good indication of what he is thinking and feeling. "He's expressing himself in ways that we have never seen before," shares Megan. One example is that for the first time, Nolan decided on a Halloween costume himself. Since he is a Peanuts fan and was reading that Halloween story, he dressed up as Charlie Brown and prepared Nitro as Snoopy's "Flying Ace" character.
Nitro brings added health benefits. Nolan understands that dogs need exercise, and he enjoys going with on Nitro's walks. However, the increased incentive to spend time outdoors goes beyond the regular walks. Megan relays how the pair spent about two hours outside on a nice, fall day, just rolling around on the ground. She says she had never seen Nolan—who normally doesn't want to get dirty—do something like that previously.
Nolan has increased focus. Indoors, especially when having to sit still for online learning lessons or therapy sessions, Nolan had previously struggled to stay on task. Now, with Nitro under his chair or by his side, he is making his own personal best records for being able to stay put and get things done.
Nitro provides hope. Megan and Ryan share that they see new possibilities for Nolan. Some are smaller in scale, like being able to attend the State Fair as an entire family someday. Some dreams are more extensive, such as how Nitro will open up more options for Nolan's future.
For these reason, and others yet to be discovered, Nolan's family expresses their gratitude to everyone who has helped bring them to this point. "Thank you. Your work matters in so many ways. It's not just about my son," says Megan. "It's changed our family. It's changed our lives. But it's not just our lives either. It's the work that you all do as a team that is changing many lives. It's priceless."
It was also meant to be.
Thank you to all those who made this partnership possible:
Puppy Raiser: Emma Persoon
Special Thanks: Betty Otto & Mike Ferber, ADAI, Jess Poucher
You: Thank you for your donations!