A diagnosis and the treatments offered for it may affect each person differently. One of the many incredible things about assistance dogs is that they are often able to help with a wide variety of symptoms that the condition causes, and therefore help a wider spectrum of patients.
Parkinson's disease is a neurological disorder that affects the central nervous system, causing motor and non-motor symptoms, but it looks different for everyone living with it. Kent's Parkinson's disease affects his mobility and balance, and not all procedure options would have been helpful for his symptoms. These symptoms challenge his safety every day, and he has to bounce off of walls or use higher surfaces to keep upright. He tends to constantly drop things and cannot safely lean over and return back to standing or sitting. He would leave things on the floor and often his wife would have to help. He remembers, as he laughs, "She'd rather have to pick that stuff up than pick me up!"
Kent's daughter found it difficult to watch her father's condition decline. A friend of hers was involved with Can Do Canines, so she encouraged her father to consider applying. He was looking to do more on his own, to be as independent as possible and rely on his wife less, so he followed her recommendation and contacted Can Do Canines. He was matched with his own furry personal caretaker.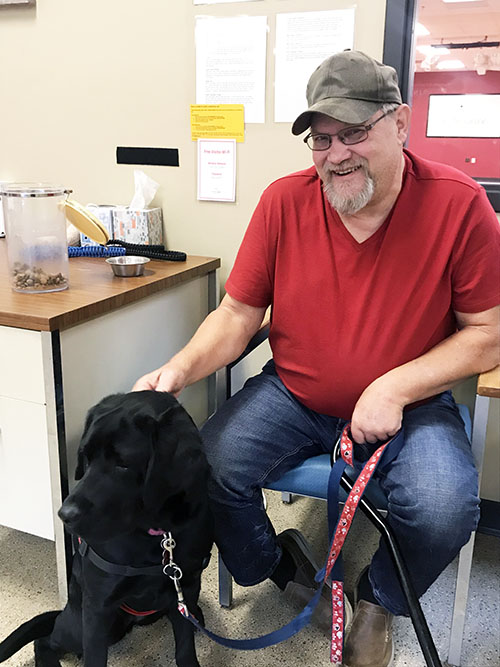 Moving Forward Together
Paige is a 2-year-old Black Labrador/Golden Retriever mix whose happiness is constantly shining. Even while she is skillfully working, she is wiggling the whole time. Paige can even combine play with work by tugging a rope that Kent holds while he's sitting. That tension helps him find the momentum to stand up. In public, she helps keep him moving by nudging his leg when he freezes, which means he is suddenly and temporarily unable to control movement. For Kent, this gentle pressure enables him to move past the freeze and continue walking.
Kent adds that though they are new to the area, Paige helps them be more engaged with the community. She tends to draw attention and comments or questions. Plus, before heading out, Paige gets items that Kent previously might not have been able to bring.
Whether they're on these outings or just around the house, Paige picks up items to prevent Kent's risk of falling. She even makes Kent laugh by picking up things that he hasn't even asked for. Her gift offerings let him know that she's always ready and willing to work!
In the beginning, not knowing exactly what would happen and learning the placement process was a challenge to Kent, but he says it's been worth it. The two are good friends, and Kent has discovered that Paige does love her kennel naps, when she is able to go "off-duty" and fully recharge to be the happy helper for when Kent needs her again.
The amount of training Paige has had has made an impression on Kent. "Thank you," he says, sending his highest praise to the fosters, the trainers, and everyone who made Paige the incredible assistance dog she is today.