When she was 3 years old, Geri survived a case of German measles, but she lost part of her hearing in both ears. In the past, Geri used analog hearing aids, but analog aids are no longer produced, and the digital type does not work with her. When the only current option of hearing aids failed her, Geri realized a dog was a necessity in her life.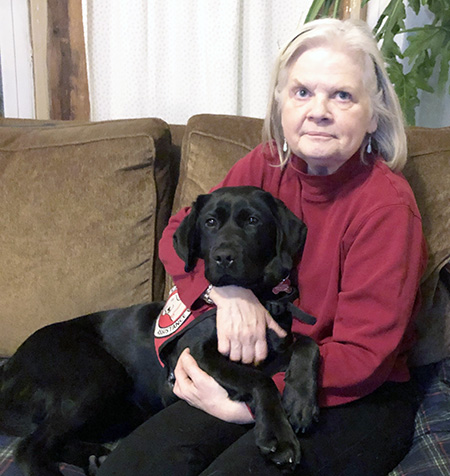 Her first Can Do Canines Hearing Assist dog was Ike, a Corgi that loved notifying her of all the sounds she was missing. However, our furry friends never live as long as we hope, and a few years ago, Ike passed away. This left Geri without her connection to many interactions in her world. She became more dependent on assistance from others to let her know when her attention was needed for a sound she couldn't hear. She needed to feel safe and independent at home, as well as work, so she applied for a successor dog from Can Do Canines. She was more comfortable with a small breed of dog and was hoping there would be one available for her. Can Do Canines now receives fewer smaller dogs than in the past, so the placement of a small breed Hearing Assist Dog would be more difficult.
Another Chance at Independence
Luckily, Xandra was a small Labrador Retriever that made up for her size in enthusiasm for sound work. She is quiet and resilient, confident but engaged, and always ready for a game of fetch with Geri. Between the time that Ike passed away and Xandra came into the picture, Geri was missing the sound of the kitchen timer, the alarm clock, or her cell phone ringing. She used to worry about missing appointments because she'd been sleeping through her alarm clock. Xandra helps wake her up on time and helps alleviate that concern. Xandra is able to make Geri aware of all the sounds that need her attention like the sound of the kitchen timer or will let Geri know when her phone is ringing. This helps keep Geri safe and connected to loved ones. When company knocks or someone enters her Minneapolis house, Xandra will make sure Geri knows they are there. Even on walks outside, Geri feels safe, knowing Xandra can recognize someone nearby before Geri knows they're close.
At work, Geri was constantly startled by people coming into her office, since she couldn't hear them enter. Now Xandra alerts her to the visitor. Xandra also retrieves items for Geri that she didn't realize had fallen, and many coworkers have witnessed this impressive skill.
Geri and her husband appreciate the way the program has grown and matured and how the training process has changed since the last time she graduated as a team. Geri is embracing those changes and grateful for all those who helped raise Xandra, saying "Thank you for your dedicated training and making this possible."
Thank you to all those who made this partnership possible:
Whelping Home: Dana Kittok
Great Start Home: Terry Stieren
Puppy Raiser: Missy Nervick
You: Thank you for your donations!