When Kim and Eric began considering an Autism Assist Dog for their son, Noah, they were hoping not only for a wonderful companion Noah could have growing up, but also a calming presence in his life. Noah's autistic tendencies caused him to have what Kim describes as regular, lengthy meltdowns multiple times each day.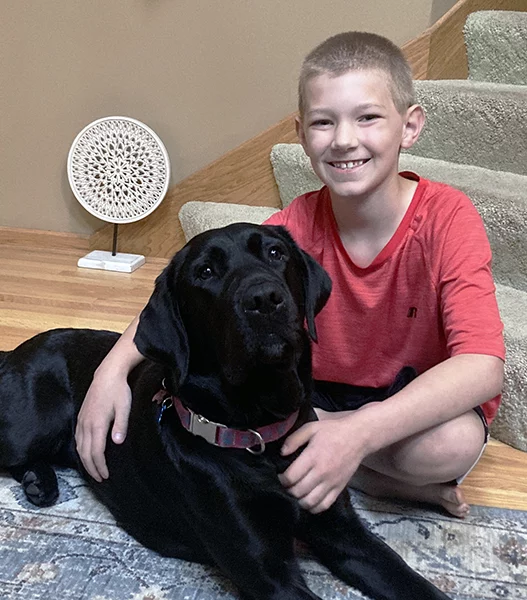 Can Do Canines knew that Xavi, a 3 ½-year-old black Lab, could be the perfect calm within any storm. So when Xavi entered Noah's life, the change was sudden and dramatic. Noah's meltdowns have drastically decreased and are shorter in duration. Kim says, "I won't even categorize them as meltdowns. As soon as you remind [Noah] to just hug Xavi, it's just instantly his body just kind of calms."
Xavi's assistance doesn't stop there, though. Trained for stim interruption, Xavi redirects Noah's focus when he engages in behavior that is not healthy, such as picking at his hands to the point of bleeding. Kim says, "We've noticed that Xavi will nudge him when she sees him doing that. So it's kind of starting to help break that, [giving him another] sensory input versus the picking."
Kim also explains that Noah, who is now entering fifth grade, was nonverbal when younger. Some people might have characterized him as being "tongue-tied." For Noah, however, his lack of speaking was literally from being tongue-tied–a condition of the tongue being tethered by tissue to the floor of the mouth. Even after surgery, Noah still struggled with communication and social skills. Additionally, Noah attempts to bolt from his parents when in public. Kim shares, "He would just wander or dart away really fast. And with him not being able to talk, that was a huge thing for us, safety-wise."
Now, being able to tether Noah to Xavi when out in public, the family feels downright adventurous. "She's accompanying us all over the place," says Kim of Xavi. Whether they're frequenting Walmart, Cabela's or even the Mall of America, anxiety is much less. Kim says that having Xavi has "definitely made going out feel safer."
More of a talker these days, Noah enjoys speaking to, and about, Xavi. One of his favorite pastimes is reading chapter books, including the Juney B. Jones series and Judy Bloom classics, to Xavi at bedtime. Kim observes, "It's very cute to watch as he's reading to her, like she loves to snuggle right up next to him and her eyes are just like falling asleep as he's reading to her."
This Lab with soulful eyes has expressed other emotions to Kim too. Once, Noah was working on a puzzle with Xavi, who deployed the "visit" cue on her own while Kim was in the kitchen. Kim states, "All of a sudden, I just peeked my head around the corner and she was laying snuggled right up against his legs. Her head was just in his lap, just looking at him. And then she looked over at me like, 'Am I doing good?' And it was just that moment of like, 'Yeah.' You know, he's not alone."
During the same Mall of America shopping day, the family also stopped at the gravesites of Noah's grandparents. There, he took the opportunity to sit at their headstones and tell them all about Xavi. 
Noah's family wants to continue to enjoy life beyond their home boundaries, maybe even with a trip to Disney World someday soon. Yet, even at home, Noah and Xavi make the most of every playtime possibility, from pretending to be superheroes in the front yard together to having Xavi pick out the dinosaur figures from a set of fabric bins. 
No matter the activity, Xavi is keeping this family grounded. Kim indicates that life "feels a little less chaotic and more calmed—a huge thing for our whole family." Adding that Xavi is allowing Noah more success and independence, Kim says, "Xavi has really changed our lives and Noah's life. Thank you. I couldn't imagine not having Xavi here now."
Thank you to all those who made this partnership possible:
Puppy Raiser — Federal Correction Institution - Sandstone
Great Start Home — Rosa Yang
Whelping Home — Karin and Elroy Balgaard
Special Thanks — Anne Cross, Caren Hansen
Team Sponsor — John Manthey, in memory of Bonnie Manthey