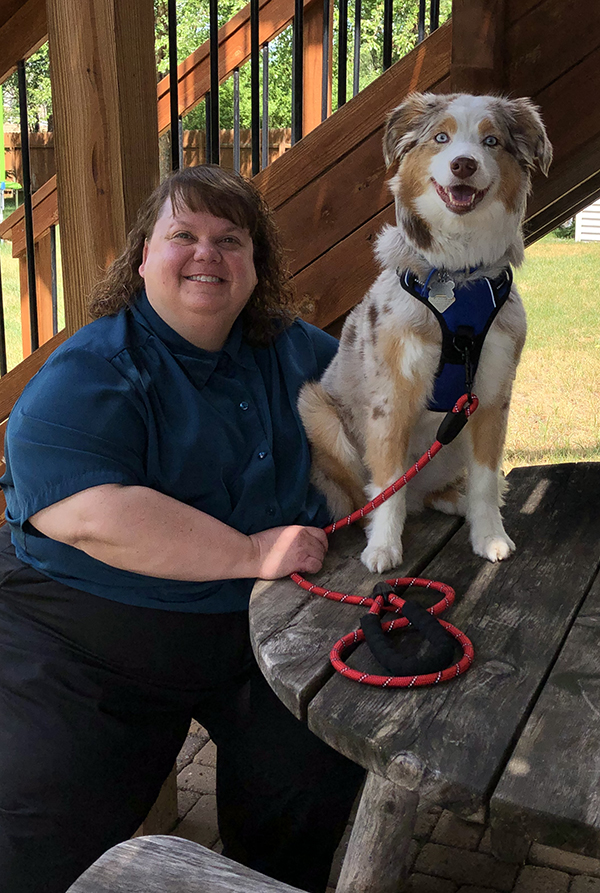 Training her fourth successful successor assistance dog has been an adventure for Becky Thomas, who was partnered with three dogs from Can Do Canines before Jasper came into her life.
It all started back in the early 2000s. Becky's father had been a Lion in Ham Lake, and the club had done some fundraising for Can Do Canines. Having learned about their assistance dogs, he suggested that Becky apply for a Hearing Assist Dog, and her journey began!
Jasper, now a 5-year-old miniature Australian Shepherd, has been with Becky since he was 12 weeks old. Becky loved her previous Hearing Assist Dog, a mini-Aussie named Caremyl, so she purchased Jasper from the same breeder who had donated Caremyl to Can Do Canines. Her goal to train him as a Hearing Assist Dog worked perfectly because Jasper joined the family as his female predecessor was easing into retirement. Jasper watched Caremyl's alert work and would copy her behaviors, eventually taking over the job while she napped.
Becky continued training with him to sharpen his assistance dog behavioral and public skills. After years of an evolving assistance dog experience with the organization, Becky was still nervous about being accepted with Jasper because she knew it took a lot of work to succeed as an owner-provided team. She was aware of the commitment she was signing up for, but the additional continuous support of updated resources was important for training and handling public access situations. Since training questions or behavioral issues arise throughout the lifetime of a team, she shares, "It's nice to have somebody to rely on. Just knowing the organization is still there after graduation really helps."
Making Sense of the Quiet
Becky is late-deafened; she grew up hard of hearing until she was about 21, when she lost most of her hearing. Even though she was accepting of the change, she got frustrated with missing innumerable important sounds, and she felt her independence slipping away. She relied on people all the time, but others wouldn't always let her know of a sound because they simply didn't realize just how much she needed their help. Her first Can Do Canines dog was placed while she was living alone and had to use a lot of unreliable adaptive equipment. Now, she has a family that she gets to take care of rather than depending on them to communicate environmental noises to her, thanks to Jasper's enthusiastic alert skills.
Becky calls Jasper her "wild child" and loves seeing his lightbulb moments when he gets a behavior right. She says, "I enjoy the challenge of his high energy because it makes me grow as a trainer." Jasper alerts Becky to the microwave, the phone, a knock at the door, the smoke alarm, her children when they call her name, and a falling item. After prompting her with the touch of his paw, he rushes to the source of the sound to let her know what needs attention. Another special skill he learned was to wake up Becky when her lamp alarm starts flashing in the morning. Nothing can hold him back from alerting her to any sounds that matter.
A New Adventure Brings Familiar Security
Becky's family and friends are so happy for Jasper to be a part of her world, helping to expand it for her. She also feels "more included and safe" thanks to his vigilant presence. He's even been alerting to new sounds they had not trained for, and she didn't know existed until he responded to the noise. Without Jasper, Becky says she would be constantly frustrated because she would be unaware of noises and missing information. Life would be a dangerous mystery of unknown sounds, but Becky explains, "[Jasper] fills in that puzzle for me."
Becky recognizes the sacrifices so many contributors made to make certification possible. "If it wasn't for their [support]" she says, "I would not have had my dogs or the help for all of them. Their donations really go a long way."