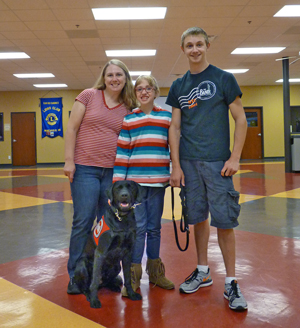 Sharon, Paul, Kyle, Kyleen Bloomquist
Sometimes it takes a family to raise a puppy. Or, more accurately in the Bloomquist's case it takes a family to raise four puppies in three years.
"We're going to keep going until we beat the record, which we believe is around 20 dogs," Sharon Bloomquist says.
The Bloomquist family raises Can Do Canines puppies in training as a team. They even have official titles for each other. The mom, Sharon Bloomquist, is Head Trainer. 17 year-old son Kyle and 11 year-old Kyleen are Assistant Trainers and Sharon's husband, Paul?
"My husband is Kennel Crew. He gets all the fun 'clean up' jobs around the house," Sharon says.
The Bloomquist's started puppy raising in 2011 after Paul heard about the organization at his Lion's Club meeting in Vadnais Heights, Minn. The family had been curious about assistance dogs, so Kyle filled out an application (because Sharon wasn't doing it fast enough; yes, he was that excited!) and three days after Can Do Canines conducted a home visit, the family received their first dog.
"We were paired with Georgia, a black Labrador retriever. We loved having her around the house—it just felt great," Sharon says.
And so the Bloomquist's were hooked. Currently raising their fourth puppy, a black Labrador retriever named Judge, the family has found there is no simple trick to raise a future assistance dog. They all have their idiosyncrasies.
"Each dog is like a Rubik's Cube," Kyle says. "They all require different, unique solutions to unlock their innate abilities and get them trained."
The whole family comes to puppy raising classes at Can Do Canines facility and they all take turns working with the dog at home. Kyle even raised their third dog Duncan, a Labrador-Boxer mix, primarily by himself!
The Bloomquist's admit that puppy raising does have its challenges, however. Be it teeth marks from a playful puppy or the occasional accident in the house, they say their experience has taught them to let things roll of their backs more easily. They've all attained a higher level of patience. And these young dogs certainly do test their patience.
"We had trained Judge to pull open the refrigerator door—a useful skill for an assistance dog. But last week we found him helping himself to what was inside the refrigerator. Luckily, we caught him just in time!" Sharon says.
The biggest concern when the family first considered puppy raising was turning the dog back in for final training and placement with a client. And, while they've already turned in three dogs, Sharon admits it's still a tough moment.
"It's bittersweet, but the reward is huge" Sharon says. "When you see the special bond the dog has with the client and see what they've been able to accomplish, it feels real good."
The family plans to keep puppy-raising and doesn't show any signs of stopping. For anyone thinking about joining them in the realm of puppy raising, Sharon says, "Do it. If you're thinking about it, just do it. Yes, you have to give up the dog, but … that's what we do."
A huge thank you to the Bloomquist Family (and all our Puppy Raisers!) for their love, patience and commitment in training these dogs to become awesome assistance dog partners for our clients.