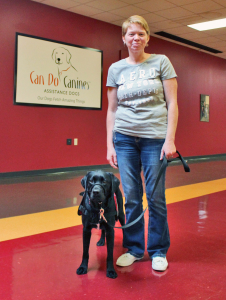 April Biever & Diabetes Assist Dog Basia
When April Biever of Tomah, Wis. started the process of applying for a Diabetes Assist Dog, she could only imagine how much her life would change.
"I've been diabetic since I was three years old," April explains. "I have hypoglycemic unawareness, so I never know when my sugar is low."
Unfortunately, this has led to some scary situations. There were multiple times when April left her house to run an errand and became confused about where she was, or how she got there. She tried everything, including a pancreatic transplant which would hopefully eliminate some of the complications from the disease. But ultimately, nothing worked. Then she found Can Do Canines after doing some research online and she applied.
A two-year waiting period and several intense training sessions later, April believes her adorable black Labrador retriever Basia was completely worth all of the hard work and patience.
"The first day we met, I knew she was perfect for me," April says. "Basia is wonderful. She goes everywhere with me and is always ready to help."
This has filled both April and her family with an amazing sense of security. Along with being a companion to April, Basia carries emergency equipment in her work vest and helps with monitoring her owner's sugar levels.
"When she gets her vest on, she knows she is at work," April says. "She can get my meter when it's time to test and will nudge me when my blood sugar is low."
There have been a few obstacles, because Basia is still—of course—a dog. But despite her fascination with squirrels, birds, and bunnies in the backyard, she has already made a huge difference in the home. One time, while home alone and taking a nap, April woke up to find Basia standing over her and pawing at her shoulder. It didn't take long to realize that her blood sugars had dropped to dangerously low levels.  "She might have saved my life that day," April says.
As April and Basia venture out in their rural community, they find that the appearance of an assistance dog has led to some glares and confused looks. "I look healthy," April says. "I don't look like I have a disability."
People were slow to understand why she had an assistance dog, until April started speaking up.
"It's been a great teaching experience—to teach others and to see how grateful they are for having asked. I'd rather someone ask me about Basia than just stare."
The experience of Can Do Canines and Basia coming into April's life has been a powerful one. Her family and community are all growing in patience, understanding, and better health together.
"Without everyone's support this would have never happened for me," she says. "We are beyond grateful."