People often say, "Everything happens for a reason." What happened in Annika's life the past few years, though, seemed without reason until she met a miracle with four paws.
A few years ago, a unique form of diabetes caused Annika to experience life-threateningly low blood glucose levels without her feeling it. Diagnosed with advanced chronic pancreatitis at 19 years old, Annika had her entire pancreas and spleen removed, resulting in Type 3c diabetes. She has been insulin-dependent ever since, navigating additional health considerations as well as anxiety. Type 3c diabetes mimics Type 1 diabetes and includes hypoglycemic (low blood sugar) episodes.
Annika has experienced being unaware of her low blood sugars until she is nearly unconscious. She describes her diabetes management before having a diabetic alert dog as "volatile," and she spent entire days eating or taking extra insulin. Her biggest worry after a day of exhausting glucose level swings was having her blood sugar crash overnight. She would check her glucose levels constantly but would still wake up in the dangerous 30s or 40s just in time to consume sugar. She describes her fear, "It was really scary just going to bed every night. I wasn't sure if everything was going to be okay." In college classes, she would have horrible headaches or almost pass out due to abnormal blood glucose levels. "It was chaos," she says of the vicious cycle of fixing a problem and creating a new one. Annika's different devices that help monitor and manage her glucose levels just weren't able to keep up with her sudden drops.
While Annika was visiting a friend, the friend's diabetes assist dog alerted her to a low blood sugar before she or her equipment had recognized it. She decided to research finding a dog for herself, and applied to Can Do Canines. In the summer of 2019, she was placed with a yellow Labrador Retriever, named Tory, that had retired from the breeding life but showed fantastic potential for assistance work. The team graduated and spent several months together before a sudden and aggressive cancer took Tory across the Rainbow Bridge. Annika and her family grieved the loss of her life-saving friend, but she chose to apply for another Diabetes Alert Dog from Can Do Canines. The staff trainers believed they had her perfect successor match. However Annika would need to make the final call.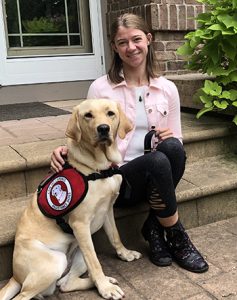 A Serendipitous Solution
She met Leah, a 2-year-old yellow Labrador Retriever, before officially training as a team to make sure she felt confident in the new placement. Leah wasn't just any new dog to Annika though. Leah is one of Tory's puppies, and is as beautiful and caring as her mother. A veterinary team conducted an extensive assessment to verify that Tory's cancer was not hereditary, and they concluded that her litters were not at any higher risk than normal for developing cancer. With that reassurance, Annika felt Leah was a wonderful way to keep Tory's memory with her, and the team started training together in the midst of the COVID-19 pandemic. Leah actually alerted Annika the very first time they met. To see them today, you'd think they've spent a lifetime bonding together.
Leah is reliably notifying Annika with a paw-touch that her blood glucose levels are dropping. She is actually aware of these lows before the devices can detect them. "She can tell me before I get to that crashed point," explains Annika. After alerting Annika to her oncoming problem, Leah can retrieve a blood glucose meter to confirm Annika's levels. If she is low or about to be, Annika asks Leah to retrieve a nearby source of sugar to prevent any further concerns. In addition to diabetes assist skills, Leah has learned that Annika anxiously bouncing her knee means that Leah should rest her chin on that knee. This light pressure therapy interrupts Annika's main signal of anxiety and alleviates her increasing worry—a tremendous benefit in these stressful times. A pre-law student and artist, Annika is again thriving with Leah by her side.
To Know Leah is to Know Love
With the team now at college, Leah brings Annika and her family a sense of security that another angel is keeping an eye—and nose—on her. Annika shares, "I'm so grateful for the people who have helped train her, the prison program that was an incredible opportunity for her, and for the Can Do Canines community working through the pandemic who still managed to match me with her and helped me train." Annika is thankful for every single one of Leah's amazing skills as she prepares for the LSAT with an added peace of mind. She says that Leah is always excited to work, and with such heartfelt bonding, Leah can anticipate what Annika needs. To everyone who brought Tory—and now Leah—into her life, Annika says, "I cannot thank them enough for the time, effort, monetary commitment, and love: everything that they put into these dogs to make them incredible teammates. I cannot say 'thank you' enough for the gift you've given me."
Thank you to all those who made this partnership possible:
Puppy Raiser: Karin & Elroy Balgaard
Team Sponsor: Lisa Ward
Special Thanks: Wendy & Mitch Peterson, FCI Waseca
You: Thank you for your donations!