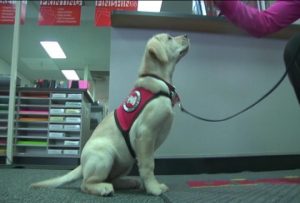 Kaitlyn Riley, WQOW – December 23, 2016
Eau Claire (WQOW) – An organization that trains puppies to become service dogs for those in need is seeking volunteers in the Chippewa Valley.
Can Do Canines is a program based out of Minnesota that raises future assistance dogs. It is fairly new to the area, and for the past year, prisoners in Stanley have been working as trainers. They will typically work with the dogs for a year and a half before the dogs are sent back to the Can Do Canines facility for even more training before picking their 'careers' as one of five different types of service dogs. The organization said it had great support with volunteers becoming foster parents on the weekends and taking the pups out of the prison to learn more socialization skills.
"It is important that these puppies get out into different environments, especially at a young age because it is such a great socialization impact for them," Dyan Larson, a coordinator with Can Do Canines Wisconsin, said.
Because of that support, even more puppies are coming to the Chippewa Valley, and Can Do Canines needs "Great Start" homes to raise them and teach them basic obedience skills before they go to the prison. That commitment is just four months, but trainers can choose to sign on for a full year and a half.
News 18 spoke with Sue FitzGerald and Abbey Brennan, who are Can Do Canines trainers in the area. They said they will be giving up their puppies shortly, and said it has been a fun and rewarding experience.
FitzGerald said her black lab, Helga, brings life to her family. Helga came into her care when she was 11-weeks old and will stay with FitzGerald until early January. "As we train and watch her, she is just showing so many signs of change and improvement. We can see already she is going to be a great companion for somebody who really, really needs it," FitzGerald said.
Brennan became involved in the program after hearing about it from her sister, who works at the prison in Stanley. She received her yellow lab, Iris, in early December and will have her through the middle of January.
Brennan said she will miss Iris dearly. "She is such a sweetheart, and she is part of our family. We will really miss her, but I just keep telling myself, she is going to be so much bigger than a house pet," Brennan said. "She is going to go on and help someone who really needs her, so that's what gets me through."
Both Brennan and FitzGerald said they plan to stay involved in the organization and volunteer to train other dogs.
Can Do Canines said it takes two years and costs $25,000 to raise a service dog, but those who need one pay a $50 application fee, and if approved get a companion for free. Right now, the organization has 180 people on its waiting list. Can Do Canines has paired 550 canines with people in the past 25 years and hopes to pair more than 50 by this next year.
"Talking with people who receive the service dogs, every one of them is like, 'I didn't think I needed one,'" Larson said. "'I thought there were people out there who were in a lot more need than I am for one.' Once they get one, they are like, 'How did I ever live without them?'"
For those who cannot raise a puppy, the organization said there are opportunities to sponsor dogs. There will be an informational session about the program on Jan. 11, 2017 from 7 p.m.-8 p.m. at emBARK in Eau Claire. Organizers said those interested can RSVP for the Puppy Program Info Session by calling Laurie Carlson, the volunteer coordinator, at 763-331-3000 ext. 113, or email her at lcarlson@can-do-canines.org. Organizers said no dog experience is necessary for these volunteer opportunities.
Watch the feature here.