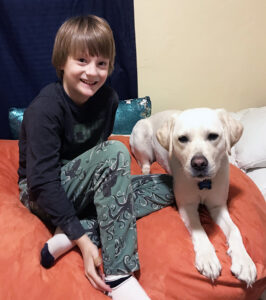 "He came out of his shell," says Andrea, speaking of when her 8-year-old son, Jaxson, received Autism Assist Dog Natalie from Can Do Canines in late 2020. Jaxson, who has a combination of diagnoses in addition to autism, including anxiety, used to struggle to be by himself. Andrea explains that not only was Jaxson afraid of leaving their Prior Lake house, he couldn't even go into a different room of the home, including the bathroom, without someone else.
Natalie's loving and calm presence has changed that. Andrea says, "He seems a lot less worried about being alone." She illustrates, "Once Jax recognized that Natalie was going to stay with him and be his dog, I just saw the day his heart opened up to her. He was just petting her and looking at her with these little googly eyes and he said, 'Mom, my heart is so happy right now with Natalie.' To hear him say that and to hear him welcome that into his heart and mind and into his routine and into his life, it's a really big deal. It's not an easy thing for Jax to do. It was really amazing."
The feeling is mutual, as Andrea explains that Natalie "100% knows that he's her boy." And boy does she show it. Incredibly affectionate, Natalie's sweet temperament can defuse escalating situations quickly. Andrea notes that Natalie has the uncanny "ability to bring Jax down a notch." She can sense when Jax needs a healthy distraction and approaches him to offer a wet kiss.
Jax isn't the only beneficiary of her loving personality though. "She has such a calm demeanor that she helps the whole family to take a step back sometimes and say 'chill out, no big deal," shares Andrea. "You can tell she's one of those dogs that's adaptable to every situation. She just wags her tail and says 'okay, whatever you want to do.'"
One way that Natalie especially helped was with online schooling. Before Natalie, Jax found sitting through a Zoom session confusing and difficult. With Natalie next to him and ready to nuzzle at a moment's notice, he actively participated in classes, both responding to questions and offering his own insights and information.
Giving Him a Shot of Courage
For Andrea, though, one particular experience stands out for how Natalie has affected Jax. During a doctor's appointment—something Jax particularly finds traumatic—he had to receive a shot. Normally, this would entail two or three nurses helping Andrea to restrain Jax. However, as Jax sensed his anxiety spiraling, he lay down on the floor next to Natalie. As Andrea describes, "She started licking his face, and they snuggled on the floor for five to ten minutes. All of sudden, Jax stood up, and lifted up his sleeve, and held out his arm so the nurse could give him a shot. And he just stood there and did it and he was so brave. He never would have been able to overcome that anxiety on his own like that. I didn't say anything. I didn't do anything. I just had to sit there and give them the time that they needed, and he just did it." Recalling that this event happened only about two weeks after Natalie had entered their lives, she says, "I knew Natalie would make positive changes in our life, but I was not expecting that dramatic of a difference."
Changing the Game for Good
Andrea, on behalf of their whole family, channels that awe into gratitude when thinking about those who have played a part in helping Natalie become the dog she is today. "There aren't enough words that we can say," says, Andrea. "I know how hard it must have been for all of those people to say good-bye to her and to let us have her. It's a real game changer, and it's something that we won't ever forget."
Chances are, everyone who has been a part of Natalie's life has received one of her famous kisses, but it's Jaxson who is lapping up her attention now.
If you would like to be part of making more dramatic differences possible, please visit our Donate page on this site to help.
Thank you to all those who made this partnership possible:
Great Start Home:
Puppy Raiser: Larry & Angie LaBathe
Special Thanks: Ken & Holly Schultz
You: Thank you for your donations!