Kaida has been living with multiple conditions that compound to cause ceaseless pain and anxiety. The pain increases with any effort to move. Fibromyalgia causes her deep chronic pain. Degenerative disc disease causes her to endure back spasms and a decreased range of motion. Ehlers Danlos Syndrome affects her connective tissue, creating weak joints and hypermobility. PTSD diminishes her ability to function in public by causing her additional stress when people reach out to help her if she falls. Pain from people bumping into her, along with her history of severe falls, prompted her to stay in her Plymouth home as much as possible.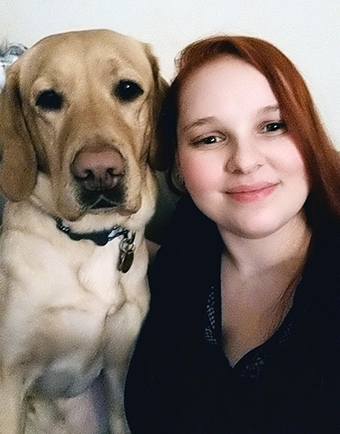 Kaida was working full time but was unable to continue in her position. Feeling limited physically and mentally, she barely managed to cope enough to care for herself while her husband was still working. She had considered getting an assistance dog for several years, and then her mother was recently partnered with an assistance dog from Can Do Canines. After seeing the transformation in her mother's life, Kaida knew it was time to apply for one for herself. She was matched with her new partner not long after.
Finally Feeling Worthy of a Better Life
Byron is an intuitive 2-year-old yellow Labrador Retriever that has exceeded Kaida's vision for what an assistance dog could do. "It's like I've gotten my life back. I'm not afraid to do things anymore," she says. Kaida used to fear anything that required her to lean over, because her joints could easily pop out of place, her back would spasm, or she could fall and not be able to catch herself. Byron takes the fear and risks out of her life by retrieving items she can't safely access, tugging open doors that would throw her off balance or cause her joints to dislocate, and offering additional support to help her back into an upright position. Once when she was getting up from the floor, she ended up tipping forward, and Byron came to lean into her and helped her get back upright. He has also prevents her from falling by wearing a specially designed harness with a semi-rigid handle that keeps her anchored to him and able to steady herself.
Kaida has continued to teach Byron new tricks, because she knows he loves to learn, and it gives them more opportunities to share successful times together.
Family Welcomes Newest Member
Kaida's husband and mother are thrilled to see her embrace her own experiences, and they feel confident giving her more space and time independently. Kaida, too, recognizes the significance of having Byron as her canine companion. She is heartfelt in giving thanks to Can Do Canines and everyone involved, saying "I wouldn't have ever been able to train my own [assistance] dog, and I will be forever grateful. It's absolutely changed my life and my mom's life, and the entire family, because everyone is so much more secure knowing we both have someone looking out for us."