"I wasn't really sure how a dog would fit my needs," remembers Sue, who was recently teamed with Mobility Assist Dog Whisper. "I thought there are others needing service dogs more than me." Some people might wonder how Sue could think this, given her medical history, but her positive attitude keeps any self-pity at bay.
In her 20s, Sue had a brain bleed and paralysis, which she overcame with physical therapy. However, she says, "As I got older, my body didn't compensate for this and I have spasticity in my leg and weakness." Later, a cancer diagnosis and the related chemotherapy added to her weakness. These complications have also prevented surgery on a herniated disc, so Sue says, "I'm not supposed to bend or pick up things." It's easy to understand that her biggest fear is her risk of falling. Sue explains, "I have done a lot of compensating by sliding against the wall, holding the handrail going up and down the stairs, and taking lighter loads of anything I carry. I look down at my feet to know where they are."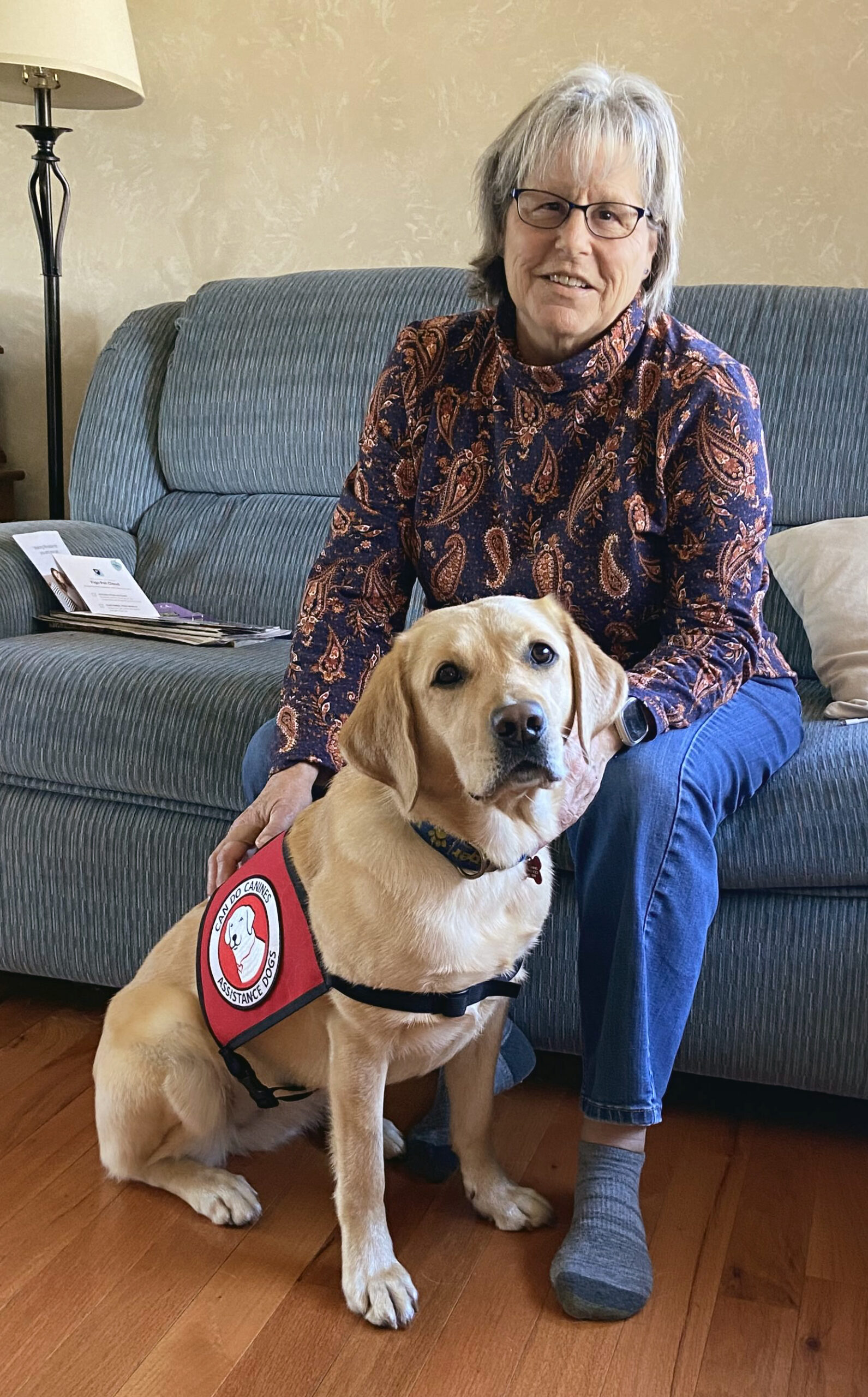 Finally, after a recommendation from her physical therapist, Sue looked into Can Do Canines and was paired with Whisper, a small, sweet yellow Lab with bright eyes. "I loved her right away, and the second time I trained with her, I loved her even more," confesses Sue. "She's so willing to do things for me."
Though Sue uses a grabber for picking up items, Whisper is now happy to help with that task and many others. With quiet confidence, Whisper gets a phone when Sue needs one, helps pull off Sue's compression socks, takes laundry out of the dryer, picks up her toys every evening so Sue won't trip during the night. Sue recalls one time when Whisper jumped into action. She says, "I was having a hard time getting up off the floor and she came and stood by me. I realized she wanted to help me by bracing." That skill has now become a regular practice.
Though some of the cue commands were new to Sue, she says, "The training I had with Denise was so thorough and reassuring," and Sue shares that she is grateful "Can do Canines entrusted me to have [Whisper]. I feel so blessed to have her."
She continues, saying, "The financial generosity of businesses and people is unbelievable. I am in awe of those that care for the dogs and puppies, the fosters that bring them into their homes, the prison trainers and Can-Do Canine staff. To do all they do and then hand them over to the next phase has to be kind of hard. It takes very special people to do all they do."
Just as Sue holds this philosophy, it seems that she and Whisper are a very special team, because Whisper perfectly fits what Sue needs and deserves.
Thank you to all those who made this partnership possible:
Great Start Home: The Dunker Family
Puppy Raiser: Jackson Correctional Institution
Special Thanks: Patty Van Landschoot
You: Thank you for your donations!