Welcome to some new members of the pack, Natalie Ramirez and her family! Read about how she came to be involved with Can Do Canines and how she dove right in as a new foster with Black Lab Ripple.
"I first saw a dog in a cape at a local Target years ago and I was intrigued with service dogs. I learned more about what service dogs did and found Can Do Canines," Natalie says.
Natalie picked up her first foster, Ripple, on November 25. When asked what has surprised her the most, she responded, "The incredible amount of information and support provided to guide you. It has been great to participate in the puppy training and watch Ripple gain new skills."
It's not all work and no play though. Natalie recalls, "We have enjoyed getting together with two of Ripple's sisters (Ruth and Reva) for play dates a few times. It is so fun to see the puppies so happy and enjoying playing with each other."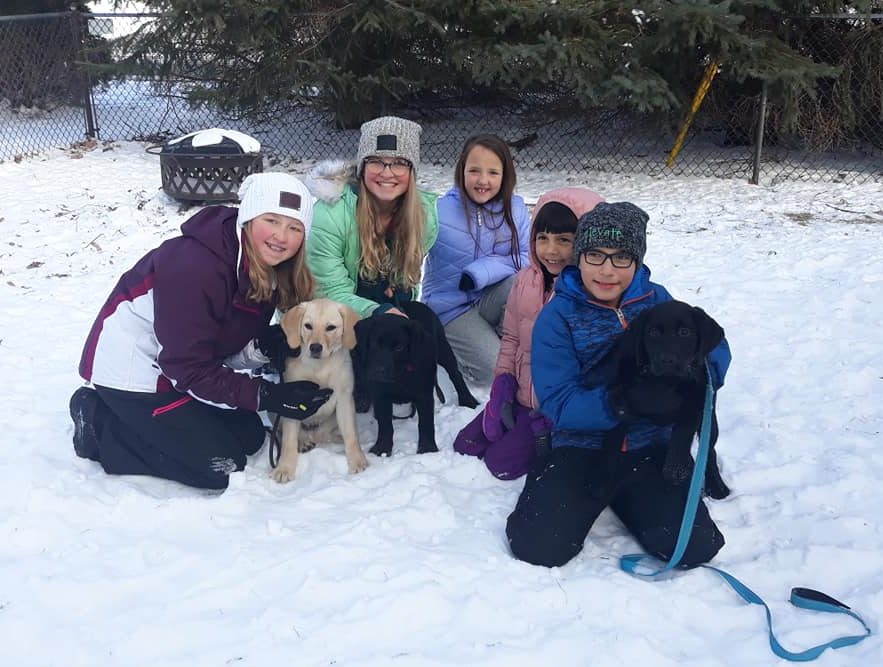 If you're thinking about getting involved, Natalie would tell you, "Check it out! It is an incredible organization with wonderful support and fabulous people. They have a wonderful mission and it is so satisfying watching dogs learn and grow. It is amazing to learn what service dogs can do and how they can serve their clients. They are superheros!"
Outside of work and volunteering, the Ramirez family likes to spend time outside, taking walks, enjoying soccer games, and spending time at the family cabin. Thank you, Ramirez Family, for volunteering as a Puppy Raiser for Ripple.