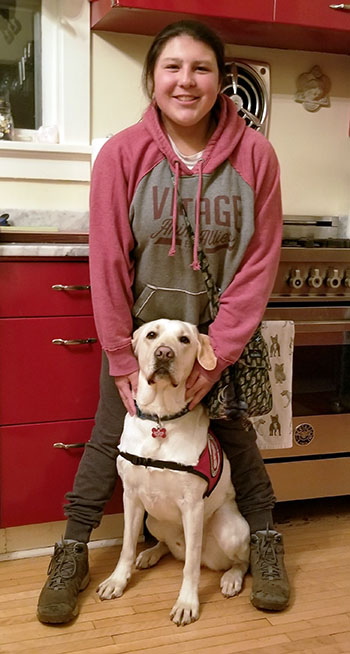 It wasn't until Annabelle was in elementary school that she began exhibiting symptoms of Friedreich's ataxia, a condition that affects some of the body's nerves. For Annabelle, this meant she experienced difficulty walking and increasingly risked falling down and severely hurting herself. So when Annabelle and her mother heard of Can Do Canines from a social worker in their northern Minnesota town, they were excited to learn about the ways an assistance dog could help.
That is where Mobility Assist Dog Vino enters the story. This 3-year old yellow Labrador is a constant companion that helps ease Annabelle's fears of being alone if a fall occurs. When thinking back on their first meeting, Annabelle remembers, "He was just a bundle of energy and both me and my mom were like, 'Oh my God! He's so pretty.' We had never seen such a pretty dog."
Luckily, there's more to Vino than his good looks. This eager worker is trained to pick up items Annabelle has dropped, reducing the risk of her falling when bending over. One time, Annabelle's phone was in the middle of her room on the floor. Without any furniture to use as a brace to walk against, she would have had to crawl on the floor to grab the item. With Vino by her side, she was able to ask him to retrieve her phone for her. Prior to working with Vino, Annabelle would have had to make extra trips back and forth between rooms to carry multiple items. Now, Vino shares the load, conserving Annabelle's energy to do the things she loves, like assembling puzzles, making bracelets and coloring.
As a 19-year old, Annabelle stays busy with her college classes and is learning to take on more responsibility. Having a friendly dog wake her up in the morning has helped her establish a routine and balance priorities. The two are a great pair—she cares for him, as he looks after her.
When asked what she would say to Can Do Canines supporters, Annabelle shares, "I would never have Vino if it wasn't for them. I just think what they do is amazing."
Thank you to all those who made this partnership possible:
Great Start Home: Timothy Burlingame
Puppy Raiser: Jackson Correctional Institution
Special Thanks: Cheri & Jerry Van Dyke
Field Trainer: Kelly Brunson
You: Thank you for your donations!