YouTube is great for learning do-it-yourself projects or watching music videos or comedians. For Kevin, it was also the way to discover what a service dog could do for him. He remembers seeing videos of people like him with multiple sclerosis who have an assistance dog. "Oh, that would help me a lot," he thought.
Diagnosed with the disease in 2013, Kevin has been struggling with mobility and dizziness issues. Upon standing up, he says he would have to "wait for my body to realize it's up and it's going to be moving." Then, once he was moving, he often found himself "wall-walking"—staying close enough to always be able to touch a wall or other fixed object. He couldn't trust his balance and wasn't comfortable leaving his Milton, WI, home unless necessary. "I didn't want to fall and have that attention on me." So Kevin was a virtual couch potato.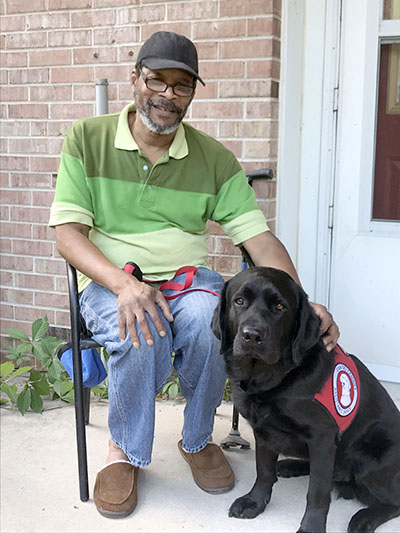 Party Time
That changed when Kevin discovered Can Do Canines and was matched with Mobility Assist Dog Earl, a fun-loving, eager-to-learn black Labrador Retriever. Kevin recalls his excitement when he got the call, letting him know that he would be receiving a dog. He was at Walmart at the time and says he did his own private celebration in the corner of the store. Despite a few curious glances, he grooved with his shoulders because jumping up and down isn't an option for him.
Since the team began working together, Kevin's couch has had considerably less use. He confesses that becoming accustomed to having an assistance dog has been a lot to learn, and he appreciates the training materials that help him remember the commands. He wants to make sure he's doing his part at being the best partner for the hard-working Earl, saying his biggest concern is "not doing good by my service dog." He understands the depth of this commitment, noting the mental and emotional bond of the two of them being in this for many years to come.
This team is off to a great start and thriving by all accounts. They love going on walks together, and Kevin, who was living alone before Earl entered his life, shares, "I finally went down the stairs after a year." He can set aside his grabbing tool now, as Earl is happy to fetch various items Kevin needs. Earl also braces for Kevin as he stands, presses push plates to open doors, tugs Kevin's walker closer to him, and more. Kevin's favorite part of their partnership is watching Earl think through new tasks. "I know he can do it, so I'm waiting and watching, thinking he can do it. Then, boom! It's like a big, huge party."
Beautiful Reasons to Celebrate
Also worthy of applause, in Kevin's opinion, is the work that went into making this opportunity happen. "There were people who give their hearts, their time, their experience and their training. You don't think all that's possible, but it is, and it's beautiful to see. They created a gift for someone who needed it. And I know it's not just me, there are a lot of others. And I thank them for it. I really do."
Who knows, maybe one day Kevin and Earl will be the stars of their very own YouTube video, demonstrating their partnership for the rest of the world to see.
Thank you to all those who made this partnership possible:
Great Start Home: Pat Thielman
Puppy Raiser: Jackson Correctional Institution
Special Thanks: Holly Schultz, The Van Dyke family
You: Thank you for your donations!