Puppy Program volunteers are involved in every stage of a future assistance dog's journey. When the puppies reach 10-weeks of age they take one of two paths through the remainder of the program—either Puppy Raised in prison or Puppy Raised in one of our volunteer's homes. Before pups go into the Prison Program they get a jump start on the basics in a Great Start Home. From 10–20 weeks of age these pups will continue work on potty and crate training, and focus on basic obedience, house manners, and social exposure. We caught up with the Cerar Family as they entered week four as a Great Start Home for Heath, a Chocolate Labrador Retriever in training.
The Cerar Family is not new to fostering dogs for Can Do Canines, in fact they've hosted 19 dogs during their three years of volunteering. They found Can Do Canines by chance, and Lori Cerar remembers how they got started: "My 19-year-old daughter Lily was doing a research paper on service animals and though we had driven by Can Do Canines thousands of times, we'd never visited, so we attended a Tails to Tell presentation. We became so enamored with the thought of helping prepare a service dog that we called right away. We thought that as a homeschooling family we'd have time to train and exercise the dogs and were interested in learning more. A couple of weeks later Can Do Canines staff and trainee Acer came out to visit and we fell in love and couldn't wait to get our first foster- Fallon the Fabulous!"
While Heath is the fourth Great Start puppy they've hosted, they haven't had a young puppy in a long time, and that took some adjusting to initially. Lori Cerar says, "I think we were surprised by how much time and attention Heath needed, especially the first two weeks. We had forgotten how busy puppies can be. But we'd also forgotten how adorable and snuggly and soft they are and what cute noises they make." When reflecting on the biggest challenge thus far, she says " … Heath is such an early riser and we are not." To divy up the responsibilities of caring for Heath, the Cerar Family takes turns getting up with him in the morning.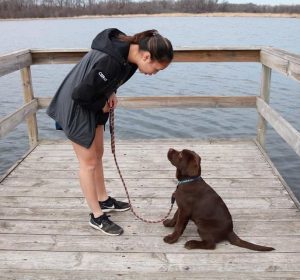 Being a Great Start Home isn't all work and no reward. As you usher this puppy along its path there are many moments to savor and Lori reflects on this: "It's been rewarding to see how quickly he learns—from being afraid of steps to running up and down with confidence, to ignoring our commands to responding with just quick reminders. It was amazing to see his success at his first puppy class at Can Do Canines. He learned so quickly and had great eye contact. It's also so helpful that he's responding to sit and wait commands when getting fed and when coming out of his kennel."
Observing them now, you would not suspect the Cerar Family never had a dog before their time volunteering with Can Do Canines. Lori says, "… now we feel confident training them and fall in love with each dog in training that we meet. We have felt affirmed and encouraged by all of the trainers and staff and feel very appreciated. We have met so many wonderful, big-hearted people, staff and volunteers alike. It's been amazing to learn and see what a huge impact the dogs have on the volunteers, the staff and finally on their client. It's been so eye-opening to see how much these dogs have to offer." Thank you, Cerar Family, for volunteering as a Great Start Home for Heath.
Want to track Heath's journey? Follow us on Instagram @candocanines for weekly updates.