As the COVID-19 pandemic began to lay hold in Minnesota, we were forced to initiate major changes in our lives. In response to the shelter in place order, Can Do Canines closed our facility, canceled all upcoming events, and moved thirty kennel dogs and eighty prison dogs into private homes—bringing the total number of Can Do Canines in volunteers' homes to 320.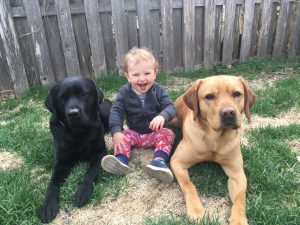 So what is it like to raise a future assistance dog during an unprecedented global health crisis? We asked a few of our Puppy Program volunteers to share their experience, and here is what they shared.
At first, it was a little scary. Tiffany Hendrickson says, "I was a little anxious about keeping the dog healthy and wiping down paws after being out in public." And as on-site training activities were canceled and public spaces began to close, raising a future assistance dog became uniquely challenging.
"Training has changed a lot," says Hanna Temme. As a temporary safety measure, all in-person training activities have been replaced by an entirely remote training program made up of virtual group classes, live webinars, and one-on-one video calls. Betsy Peregoy, who recently took part in her first virtual group training class, says, "It worked very well. We were guided through some familiar cues, and also introduced to some new ones. Since we are new to Can Do Canines training methods, we really feel like we need the training as much as the dogs. These virtual classes will help us continue to learn how to teach more advanced cues."
As volunteers adapt to these virtual platforms, they are also compelled to come up with creative ways to socialize the dogs in their care. "Since our ability to take the dogs on public outings has been put on hold, we are getting more inventive about how to expose them to new things," says Betsy. "We have visited parking lots and walked around to observe carts, people with masks, strollers, and various vehicles. We have gone on many nature walks to different places in hopes of introducing them to new smells and sounds."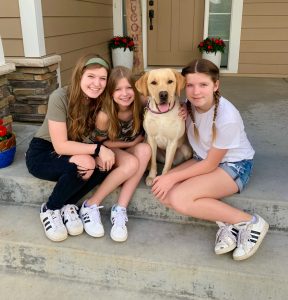 Sometimes, focus areas change entirely as a result of social distancing. "With isolation we switched gears and worked more on things we needed to catch up on like, taking walks around our country block. The pandemic also forced us to work on new skills in the house," Mike and Tracy Zeckmeister remark.
If you're wondering if anything is easier for those with a Can Do Canine in their home, the answer for many is "yes." For the Temmes, "Having dogs and a toddler has encouraged us to explore more of the local parks so we definitely do not feel as limited or isolated as others may by the stay at home order." Tiffany echoes this sentiment, "Having a puppy to train during this has been a Godsend. The antics of a puppy are keeping my kids light-hearted and laughing while their worlds have been turned upside down."
We'd like to give a heartfelt thank you to those with Can Do Canines in their homes during these challenging times, those who took in the kennel and prison dogs with barely a moment's notice, and those who offered their support in other ways. We are lucky to have such an extraordinary volunteer family.