Can Do Canines Diabetes Assist Dogs are trained to monitor smells in the air for a specific scent from their human partner that is related to rapidly dropping or low blood sugar levels. If detected by the dog, they then "alert" the person with diabetes, usually by touching them in a significant way such as pawing or nudging them. The handler then knows to check his or her blood sugar level. It also informs them that they should get something to eat or drink to prevent hypoglycemia.
Besides being taught their life-saving detection skill, our Diabetes Assist Dogs are also often trained to:
retrieve juice or glucose tabs
get an emergency phone
alert another person to come to the aid of their partner
Diabetes Assist Dogs wear a backpack identifying them as an assistance dog. This backpack has pockets where medical information, a sugar source, and emergency contact information can be stored. This provides an extra safety net in case the person with diabetes is unable to get help in time. Anyone finding the person unconscious or acting abnormally would know it may be a medical emergency and know how to get help.
Our dogs are only trained to assist Type 1 Diabetics. We do not train our dogs to detect unusual highs, only blood glucose lows (a low is considered anything under 70).
How can a dog detect low blood sugar? The dogs are evaluated throughout "puppy-hood" for a willingness to work and a sensitive nose. Once we have identified their interest in smells, they begin scent training. A person experiencing hypoglycemia produces a particular scent, found on the breath or in sweat, due to chemical changes in their body. All people produce the same scent when they have low blood sugar. Our training methods are similar to those used to train drug sniffing or search and rescue dogs trained to find people.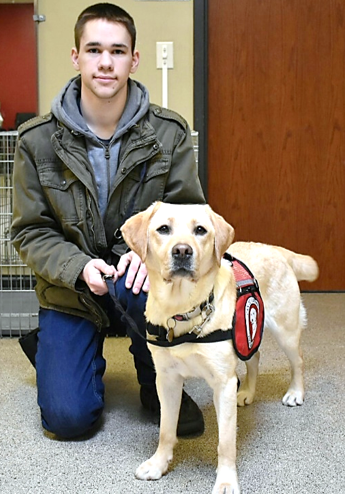 General Criteria for Diabetes Assist Dog Applicants:
Must be a resident of Minnesota or Wisconsin
Must have Type 1 Diabetes complicated by hypoglycemic unawareness and can provide proof of diagnosis
Must be physically and financially able to take full responsibility for the dog after certification
Must be at least 18 years old
Must not currently own a dog unless applying to owner-train their pet
Click on the photo below to watch a video clip of one or our diabetes teams.
Video Transcript of Malcolm and Blaze:
Hi. I'm been a type 1 diabetic. I've had it since childhood. And I have instances where my blood sugar will drop a significant amount in a very short period of time.
You know I've had situations at my work where I'll be sitting at my desk helping people and all of a sudden I'm just talking absolute gibberish, and I have no idea what's going on, and the people have got no idea what's going on. And you know, we've had to call the paramedics on occasion when that happens to come and assess me 'cause my blood sugar gets too low.
And that was kinda when we turned to Can Do Canines to apply for my service dog Blaze here.
You know, since having Blaze, I've had another six, seven weeks. And since having him, he's just helped me so much with the low blood sugars, and almost on a daily basis. And he catches it well before my glucose monitor catches it.
And I really appreciate all the work that people at Can Do Canines have done and to train dogs just like Blaze.