Can Do Canines trains Autism Assist Dogs to help provide security and peace of mind to families of children with autism.
When in public, the child wears a specially designed belt that connects a pack the dog wears to the child, while an adult handles the dog's leash. If the child attempts to run (a common behavior for autistic children), the dog becomes a gentle, steady anchor to keep the child safe until the adult can get the situation under control.
Autism Assist Dogs also act as a social bridge, so when people talk to the child about their dog it encourages the child to interact and make connections.
Depending on the needs of the child, our dogs may also help in these ways:
gently interrupting stimming behavior
lying across the child to provide deep pressure therapy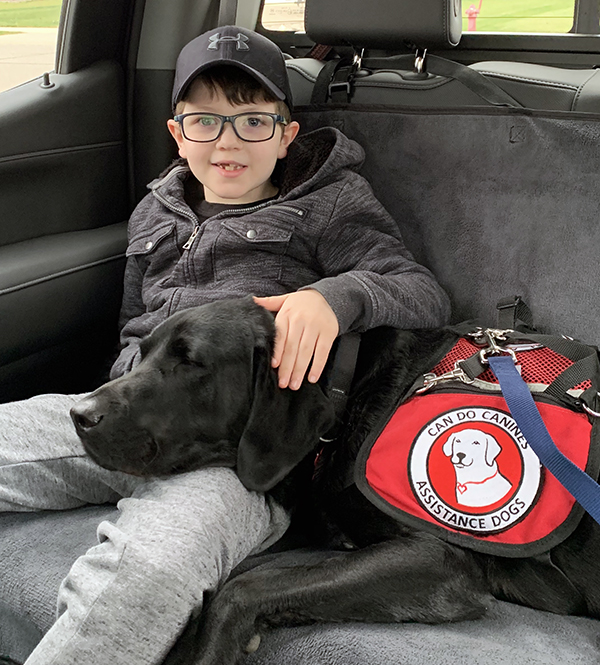 General Criteria for Autism Assist Dog Applicants:
The family must reside in Minnesota.
The child must be between the ages of 2 and 7 years old when applying.
The child must have an autism diagnosis.
The family must be physically and financially able to take full responsibility for the dog after certification.
Click on the photo below to watch a video clip of one or our autism teams.
Video Transcript of Carter, Carter's mom, Annie, and Noah:
Hi! Since getting Noah from Can Do Canines, a lot of things in our lives have changed. One thing is Carter is much safer. Carter used to run away from us all the time. And we would yell for him to stop and he wouldn't come back to us. It was really scary.
I couldn't go out into public anymore. Now that Carter's faster than me, I couldn't keep him safe even at our favorite parks. There were too many dangerous things like rivers, railroads, streets.
Once we got Noah, there was a tethering system that connected Carter and Noah together. Since we've gotten Noah, Carter has only run away from us, like, one time in the last two years.
We are so thankful to Can Do Canines.
Yeah.