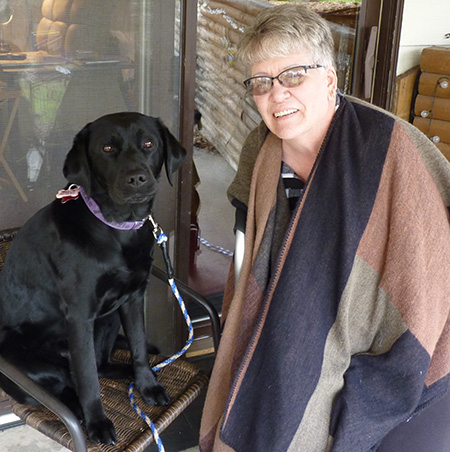 It's right there in their eyes. When Kim and Mobility Assist Dog Mazie look at each other, their shared love is obvious to anyone. During one such moment, Kim quietly says, "She really likes me."
Mazie is not the only dog to have this feeling for Kim, though. Kim was first matched with Can Do Canine Tagg, a Labradoodle, in 2011. Tagg was a much-needed partner for Kim, who was diagnosed with multiple sclerosis in 1987, when she was in her late 20s. The disease causes her to fall frequently, and dropping items poses a challenge that can spiral. She explains, "Picking up can lead to tipping over, which can lead to being on the ground." Once on the ground, she can't get up on her own, so having Tagg to go get her husband or someone else for help was crucial.
Tagg was a treasured lifeline for Kim until he passed away in December 2020. Though her heart was broken and she missed Tagg, Kim knew she needed another assistance dog, saying, "I'm not walking as much as I used to." She uses a wheeled walker in the house, has a stair lift and uses a scooter when out in public. Plus, with the fear of falling, Kim says she felt "very anxious if left alone."
Service With a Smile
It wasn't long before she met Mazie, a black Labrador Retriever. Leslie, Kim's Can Do Canines client service coordinator, shares, "Mazie won [Kim] over with her 'smile,' which is when she gets her lower lip under her teeth, making a smile." Kim agrees, saying, "The fun part about Mazie is when I say 'clean up' and she picks up all her toys. Then she comes back and she smiles at me." Maid Mazie takes this job very seriously, making sure there is nothing on the floor to trip Kim.
Other skills Mazie happily performs for Kim without even blinking an eye include lifting Kim's legs into position onto the bed or onto a footplate, getting clothes out of the washer and dryer, tugging Kim's walker to her, retrieving a cell phone, and more. Leslie also attests that Mazie "picks up on new skills quickly," and describes that "she learned to tug open a drawer, get out jammies and close the drawer after she moved in. It wasn't pre-trained, and she was 100% proficient within a week." Kim credits Leslie for implementing this new skill. "Having the trainer come to the house has been just wonderful. I think going to the client's home is very helpful because the trainer sees things that the person doesn't see."
Grateful for all these ways Mazie lends a hand, Kim says, "It's just that little bit of security that an assistance dog gives you."  With that restored sense of safety, Kim happily reports that she was able to get a job in an assisted living home. "Mazie's going to be going to work with me," she says. "We're going to work every other weekend. I'm really looking forward to this opportunity to be with people, and to be on my own and do it."
With this in mind, Kim shares, "I would like to thank everybody for all their hard work at Can Do Canines and the prisons, to get people who need these assistance dogs and to know how important they are to us." In fact, it's fair to say that to Kim, Mazie is now the "apple of her eye."
Thank you to all those who made this partnership possible:
Great Start Home: Debbie Mogenson
Puppy Raiser: Stanley Correctional Institution
Special Thanks: Bryan & Sarah Sjostrand, Larry & Angie LaBathe
You: Thank you for your donations!