When Shawn Calzaretta and Mobility Assist Dog Hobbs graduated as a Can Do Canines team in April of 2014, Shawn already knew there was great potential for his life to be changed dramatically. But he had no idea the full impact Hobbs would have on his quality of life.
 "When I first began researching assistance dogs, I immediately knew that Can Do Canines was my only choice and hope—call it a gut feeling," Shawn says. "But, what I didn't realize was that Hobbs was going to be more prepared for our journey together than I was. I never expected to have so much in common with him, or for him to become my patient and sensitive teacher."
Knowing how energetic young Labrador retrievers can be, Shawn who lives in the small town of Delta, Iowa was concerned about Hobbs getting enough exercise. Shawn has Multiple Sclerosis and his symptoms include limited mobility, extreme fatigue, and virtually no use of his hands. He was not able to walk Hobbs and couldn't throw a Frisbee or tennis ball. Even if he could, there was nowhere enclosed and safe for Hobbs to run.
Thanks to the efforts of many during the summer of 2014 this problem is a thing of the past. Through a grant from the local MS Society, help from the Iowa Project Work Fund and 35 hours of volunteer time, Shawn and Hobbs now have a fenced-in back yard, a safe deck and the added benefit of a convenient place for both of them to exercise. Shawn describes the new situation as win-win.
 "I didn't go out the back door for three years because the back porch was a danger zone. Now the stairs are the correct width and height for me to navigate, and the fence and railing are constructed so well that I know they are reliable. It is a joy to go outside with Hobbs and watch him run and play like a regular dog."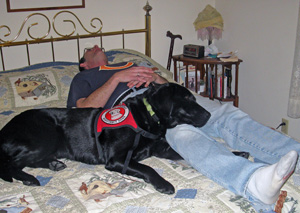 It is obvious that Shawn loves Hobbs, but he also is amazed and grateful for the way his life has changed. One of Hobbs' most significant and intuitive solutions has been laying across Shawn's legs at night, quieting muscle spasms and allowing him to get the sleep he needs. In fact, he will lay across Shawn's legs or feet and calm the tremors whenever they are manifested. Day or night, Hobbs' instincts are impressive. He will observe Shawn's stress level and, if he senses that Shawn is getting too tired to go out or do an activity, Hobbs will not participate. Shawn says Hobbs will sit patiently and give him "the look," and then he knows he has done enough and needs to rest.
 "He is the cornerstone of managing my MS symptoms. He is my constant anchor," Shawn says.
After his diagnosis, Shawn spent two to three years with very limited mobility—being able to walk only from his bedroom to the kitchen. His health has improved to the point that he is now able to take day trips and drive himself to physical therapy as well as go out into the back yard and throw the Frisbee for Hobbs. He describes the situation as "a total turnaround—all because of Hobbs. He's nothing short of a miracle!"
 Shawn says they continue to learn from and about each other every day. "This is a pretty awesome situation we have going on over here."