Paul, a retired chef, is used to managing busy kitchens. But in 2010, when he contracted Methicillin-resistant Staphylococcus aureus, managing his health became overwhelming. After a foot amputation, a broken back, the development of neuropathy in his hands, and more physical traumas, Paul realized he needed a new recipe for comfort and safety.
Admittedly stubborn, Paul says he originally "fought tooth and nail" against the idea of getting a service dog. Once persistent friends and doctors were able to change his mind, Mobility Assist Dog Zeke began to blend into Paul's life. "Now, you couldn't take him away from me if you tried," says Paul.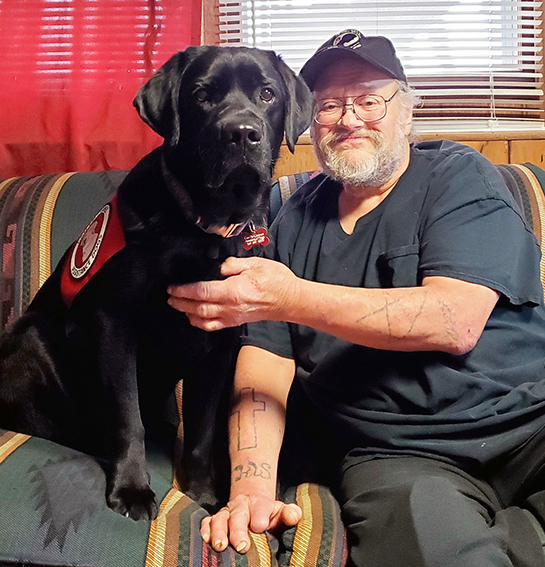 With so little feeling in his hands, Paul is constantly dropping items, and his prosthetic leg makes balancing while bending down to pick things up precarious. He has become pretty creative with how he has used his cane to retrieve keys, his phone and other necessities. Zeke, though, has proven to be a much more reliable retriever, especially when it's the cane that needs retrieving. Paul says, "Not having to strain to get something is quite beneficial."
Paul states that adding Zeke into the mix of his daily activities has given him "almost a 100% turnaround," allowing him to be more active. They love to walk together, whether outside or around stores. Paul explains that Zeke enjoys maintaining physical contact so much with him that he will touch his chin to Paul's knee even while they are walking through the grocery store. "The old ladies get a kick out of that," he shares.
Paul has plans to be able to go fishing with Zeke by his side. He's already envisioning the large umbrella he will set up to shade them both while he casts from shore or a dock.
His enthusiasm for the training process isn't measured in the least. "I was very impressed," he says. "I wouldn't hesitate to recommend Can Do Canines to anyone." Volunteers that Paul has met have also stirred feelings within him. He says of seeing them interact with the dogs, "It's like they're handling their own kids." 
The people in Paul's life have noticed a remarkable change in him since Zeke came on the scene. Paul says, "They say I'm not as stressed as I used to be."
So for Paul, Can Do Canine Zeke appears to be the secret ingredient for a healthier life.
Thank you to all those who made this partnership possible:
Puppy Raiser — Todd J Anderson
Whelping Home — Mitch Peterson
Name-A-Puppy Donor — Kerry Houts