"You just do what you have to do," was Kevin's mentality in dealing with pain and mobility issues related to failed back fusion surgeries. He says, "Bending down on the floors is hard for me." He also reports having fallen asleep while driving–something he attributed to the many medications he needed to combat the pain.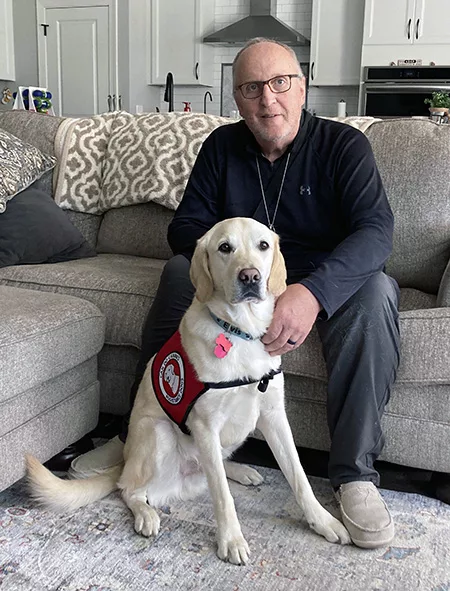 While it has been nearly 20 years since Kevin, a retired civil engineer, has considered himself disabled, it was more recently when a medical professional recommended Can Do Canines to him. Kevin applied and was matched with a yellow Lab named Elvis. He says, "I had talked about getting a dog for a few years, not knowing it would be something like this." As he gets to know his "spirited," somewhat vocal, and "hot shot" of a dog (after all, Elvis is trying to live up to his name), Kevin can't help falling in love with him. 
"The minute I'll drop something, it's just like, 'Bang!' He springs into action. He's always ready to work," says Kevin. Elvis is also the king at getting Kevin's medicine bag, tugging open doors and drawers, and retrieving dropped items, keeping Kevin from having to painfully bend over. Elvis prompts Kevin to get out of the house more, also, leading Kevin to report, "That's helped in my health too." Plus, Elvis takes off Kevin's socks and can fetch his shoes–even if they're not blue suede ones. 
Kevin further explains, "When I'll tell him to do 'Foot,' he'll come and lay across my feet, so his head's on one foot and his body's on the other. I have neuropathy in my feet, so it feels really good. The energy kind of floats up through my legs."
Although Kevin admits, "There's not a piece of his clothes that doesn't have hair on it anymore," he's not all shook up about it. Instead, he shares how beneficial Elvis has been for him and his wife, Stephanie, who doesn't have to rush home to assist Kevin through emergencies like she used to. Kevin states, "He's changed our life, that's for sure."
For the many ways Elvis is making an impact, Kevin is appreciative. "I'm just grateful for all the volunteers that do this for people. I mean, it's amazing what they can do for and how it's probably changed a lot of other people's lives [too]." 
After all, just like other Can Do Canines, Elvis is no regular hound dog. 
Thank you to all those who made this partnership possible:
Whelping Home — The Wahl Family
Puppy Raiser — Beth & Greg Carlson
Name-A-Puppy Donor — Spring Lake Park Lions