Imagine not knowing if you would pass out each time you bend over. That's Olivia's reality. Born three months premature, which led to hydrocephalus and cerebral palsy, and diagnosed at age 8 with a unique form of epilepsy, Liv has had over 150 surgeries in her 26 years of life so far.
Yet, it wasn't until college that she realized how desperately she needed a dog as part of her care team. "When I was a freshman," she recalls, "I was alone in my dorm room, studying for midterms, and I had a seizure." Luckily, she was able to get help to get to a hospital but spent six weeks there being intubated and facing additional brain damage. "That was the first time we realized that my safety and my productivity and everything was in jeopardy because of my epilepsy."
When she was able to return to college at Augsburg, her own 15-year-old dog, Schatzi (a schitzu-poodle mix), moved in with her, even though Schatzi was not officially trained as an assistance dog. Yet, just with this added safety, Liv did not have any more seizures for the rest of her college career. Realizing the increased benefits a true assistance dog would bring, she contacted Can Do Canines for a Seizure Assist Dog.
However, her need for a hypo-allergenic dog, along with another major medical setback, slowed down the process of getting a dog. At the beginning of the pandemic, not only did Schatzi pass away, but Liv needed another surgery. She anticipated a minimal hospital stay, but she comments, "Being me, that wasn't how it went down." Instead, she was bed-ridden for seven months. "My life was really at a low," says Liv.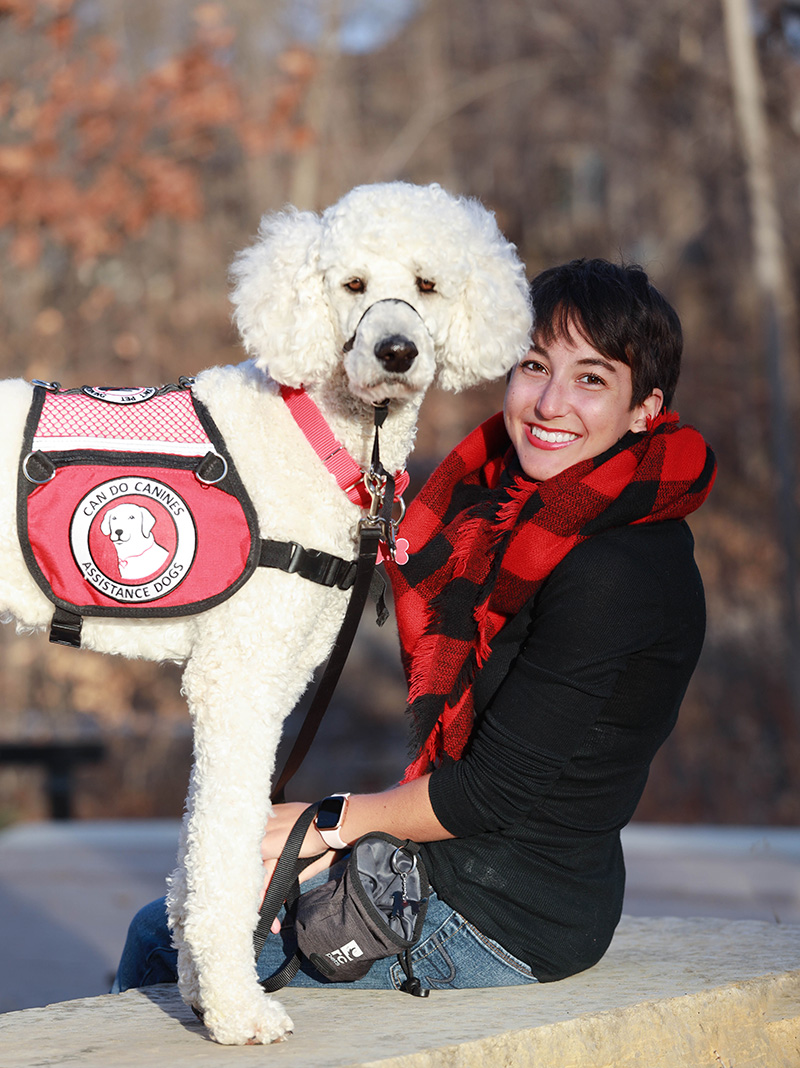 A big, white poodle named Clark would be just what the doctor ordered for Liv, who says that her doctors won't allow her to live alone until her health stabilizes. Until then, she and Clark are living with her parents and tackling life together. Liv says, "Now with Clark, he gets me out of bed and keeps me out of bed. Even if it's just to feed him, I have to get out of bed."
Clark has also proved essential for getting help, retrieving Liv's medical bag and picking up dropped items. Often battling headaches, Liv explains that the pain can worsen when she leans over and that she sometimes loses consciousness. This is when Clark's assistance is especially important. Liv explains, "I'll do laundry, and I won't have to bend over at all, and it's amazing." She describes that he'll hop right inside the dryer to get items. "He loves it!"
And just like with any successful team, the attention goes both ways. Admitting that she is "super type A," Liv keeps a to-do list on her phone of how she needs to look after her beloved canine. The tasks include brushing him, doing his nails, giving him kennel time, brushing his teeth and more. She calls it "Clark Care." Even without Liv's extra attention, Clark is a handsome boy. Liv notes, "He's got the most gorgeous eyelashes. People pay a lot of money for that!"
Liv did not have to pay money for Clark, though, under Can Do Canines' business model, and he is proving invaluable to her. She humbly thanks everyone involved in making this happen, saying that this new reality is "just giving me the opportunity to live my life how every person should be able to."
She talks of getting a job, moving to a place where she and Clark can spend their lives together, and even traveling. "Without a dog, I would not be able to achieve half the things that I'm hoping to." Now, though, Liv has a renewed attitude. "Just wait and see what I can do."
Thank you to all those who made this partnership possible:
Puppy Raiser: Michelle Magdsick
Team Sponsor: Mary Gunderson
Dog Donor: Mary Joyce
You: Thank you for your donations!