By Mary Gunderson
The minute Nathan met a Can Do Canine assistance team during a family outing to a Green Lake, WI, park, he wanted that team relationship for Brendan, his son. Brendan stopped walking at age 8 due to Duchenne Muscular Dystrophy, a severe muscle-wasting disease. Nathan and Kat, his wife, applied in mid-2021, just after Brendan's 10th birthday, the minimum age for a Can Do Canines Mobility Assist Dog match.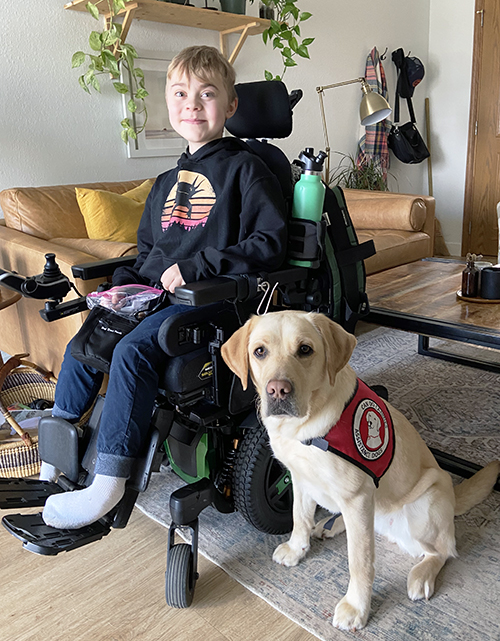 Even as Nathan's enthusiasm rose, Brendan reserved judgment. Reserved, that is, until he met Harley, the beautiful, 2 ½-year-old, female yellow Lab. "When Harley jumped up and hit the handicapped button," Nathan says, "Brendan was amazed at how excited Harley was to help."
Harley joined their family, including 8-year-old Owen, and the 4-year-old Welsh terrier, Wendle, in Oshkosh, WI, in February 2022.
Nathan, a chaplain, and Kat, a yoga teacher, beam when they talk about Brendan's growing relationship and independence with Harley. "Before, he'd try to pick up things, yet he was always at risk for a fall," Nathan says. Harley is at Brendan's side to pick up a dropped remote or bring Brendan his phone. If Brendan needs something when his parents are out of earshot, he says, "Harley, go get help!"
Harley literally opens doors for Brendan, doors with or without activating buttons. She closes them too, an everyday skill difficult for Brendan who has arm weakness. Brendan directs Harley to pick up dirty clothes or help put away toys. "With Harley, Brendan has more power, which is really nice," Kat says.
Soon after Harley joined the family, Brendan had a difficult surgery and a long hospital stay and home recovery. Harley often rested under Brendan's bed. "She was patient and a calming presence for our whole family," Kat says. "I thought she'd be 'all-Brendan-all-the-time.' She helps us all be more patient."
Harley joined an already busy household. They prioritize family time doing outdoor activities together and being together at home. On movie nights, Harley cuddles with Brendan on the couch. Kat says, "We read a lot, and Harley is at Brendan's feet."
As canine siblings will, Harley and Wendle play together raucously and fight over toys. "But there's something relaxing for us after they've played and had a good time," Kat says. While Wendle doesn't shed, Harley's golden hair and slobber add to vacuuming, mopping, cleaning, and organizing. "But seriously that is no big deal," Kat says. "She's just very easy. She doesn't add to the stress."
Brendan's planning a PowerPoint presentation to introduce his best girl to his class before the school year is out. He describes her as "excited, sometimes wild, and she has a whippy tail." Soon Team Brendan and Harley will take on summer school and camp. He helpfully reminds family and friends that Harley isn't a "tricks" dog: Harley does "skills and services," such as picking up a dropped pen for Brendan—no small thing for the budding artist who loves to draw.
Meanwhile, Brendan is learning how he can help meet Harley's needs. That includes helping to feed Harley and going for after-school walks; sometimes brother Owen joins them.
When Brendan and Harley go out in public together, Nathan and Kat are pleased to see how he is more and more conscious of being protective of Harley. "He's not just alone in his own world, crusin' with his chair," Nathan says. "He notices who's around and what might affect Harley."
"Even going to Costco is more fun with the boys and Harley," Nathan says. "It makes me happy to see them together."
"It's lovely to see Harley's intelligence," Kat says. "I trust her to take care of Brendan."
When the family is out for a day, Kat and Nathan notice a difference in how other people react. "It's a gentler, softer reaction with Brendan and the dog," Kat says. "To see the joy on other people's faces is a real nice change. It's just a boy and his dog."
"We are just so grateful," Nathan says.
Thank you to all those who made this partnership possible:
Puppy Raiser — The Kevin Miller Family
Special Thanks — Federal Correction Institution - Sandstone
Name-A-Puppy Donor — Tito's Handmade Vodka
Field Trainer — Mona Elder