By Susan Byers - 
At work, Gretchen manages a program that helps nurses access the right tools to serve elderly patients. In her personal life, she also relies on important tools to help manage her Type 1 diabetes.
Gretchen developed Type 1 diabetes 13 years ago. Even though there was a history of diabetes in her family, the disease came on unexpectedly for her. She dismissed early symptoms as merely stress or a hormone imbalance. But once she was officially diagnosed, Gretchen was a fast learner. With minimal diabetes management education, she quickly learned to use short-term and long-term insulins, as well as test her blood sugar on a monitor. In addition, motivation was a big factor.
"Long before I got Type 1 diabetes, I had a 'type A' personality," Gretchen mused. "That meant I was highly motivated to take control. Diabetes can be managed, but it is challenging."
With diabetes management tools in tow, Gretchen took charge of the disease. On work days, she found it relatively easy to keep blood sugars in good control. But weekends were harder due to more physical activity and a busy family life. Over time, she added new tools (a continuous glucose monitor and an insulin pump), allowing her to more easily monitor and manage her levels.
About a year and a half into her journey, Gretchen added another key tool: A Can Do Canines Diabetes Assist Dog named Callie. Gretchen and Callie worked together for nine years. Sadly, Callie died a little over a year ago. "Managing diabetes without Callie was so hard and scary," Gretchen said. "I was fortunate to be on the list right away for a successor dog."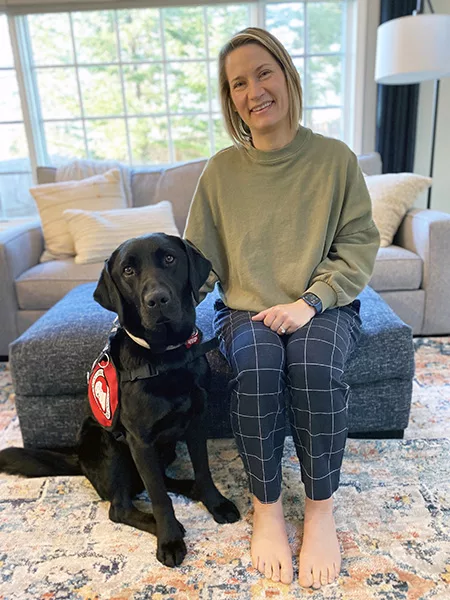 In February, Gretchen met Kori, a black Labrador/Golden Retriever mix. Together, they trained with Can Do Canines Client Services Coordinator Alaina at the facility and on shopping trips to test and hone Kori's skills. In March, Kori moved in with Gretchen and her husband, Ben, and in-home training with Alaina continued. It wasn't long before Gretchen and Kori were certified as a team.
Because Gretchen cannot feel an insulin reaction coming on, Kori was trained to sense low blood sugar and retrieve vital tools. As such, he is at her side at all times, whether she is working, exercising, or sleeping. If Kori smells low blood sugar (often after a walk or a workout), he nudges Gretchen's leg—purposefully and persistently. He then brings her a fanny pack containing a handheld monitor to double-check levels and glucose tablets to quickly raise her blood sugar. If necessary, Kori runs to get Ben to assist.
"Diabetes can be complicated. You don't know if you took too much insulin, or had too much activity, or didn't eat enough carbohydrates," Gretchen remarked. "But with Kori around, I feel safe. He is skilled and attentive, which allows me to live my life." 
Gretchen is grateful for Kori and the amazing organization behind him. "Our [Client Services Coordinator], Alaina, has gone above and beyond for us," she said. "I appreciate how Can Do Canines has many communication tools to support us, such as answering questions on Slack or connecting us with other assistance dog teams via Facebook or in-person events."
Notably, Gretchen is also grateful for the positive impact that diabetes has had on her life. "Because of it, I eat well, exercise regularly, and have a healthy perspective. I'm so fortunate to have great tools and a great team—Kori, my husband, my doctor—to help me manage diabetes and live a healthy life."
Thank you to all those who made this partnership possible:
Whelping Home — The Nervick Family
Raisers — Caitlyn Beam, Britta Maddox and Mike Blair, The Nervick Family
Special Thanks — Stanley Correctional Institution