August 1-7, 2021 marks International Assistance Dog Week, which was created to recognize all the devoted, hardworking assistance dogs helping individuals mitigate their disability related limitations.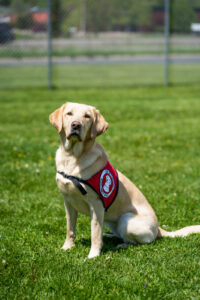 Marcie Davis, a paraplegic for over 40 years and CEO of Davis Innovations, worked to establish International Assistance Dog Week. Davis is the author of Working Like Dogs: The Service Dog Guidebook, a resource book that captures personal stories, checklists and practical tips to provide the reader with an A-Z guide about service dogs and she is the host of the Internet radio program, Working Like Dogs, at www.petliferadio.com. As a member of a service dog team, she founded Working Like Dogs to honor assistance dogs around the world.
This week, we are asking for your help. Would you be able to consider a donation to honor this special occasion?
Through Saturday, August 7, all online donations will be matched, thanks to Rory & Carol Boucha and The Bruning Foundation, up to $6,000. Can you help us secure these matching funds and allow us to continue training life-saving assistance dogs?
Thank you for believing in our assistance dogs and the peace of mind they provide to our clients. This work is only possible because of donors like you.
A few local TV stations helped us spread the news about this special week, as well. We invite you to watch the segment that aired on WCCO.
More information about International Assistance Dog week can be found at www.assistancedogweek.org.