By: Erin Reyes
A ringing doorbell. A dinging oven timer. A chirping smoke alarm. Someone calling our name. 
These are sounds many of us take for granted every day – sometimes, we even treat them as a nuisance. But for Megan, a 27-year-old student at UW-Oshkosh, they are mostly a non-issue…because she can't hear them.
Megan was born with Treacher Collins Syndrome, a craniofacial birth defect in which some facial features – in Megan's case, her ear canals – never fully develop. As a result, Megan has grown up with profound hearing loss.
She first learned about Can Do Canines after conducting extensive research online for a service dog organization that trained hearing assist dogs. "When I initially reached out to Can Do Canines," Megan says, "I was looking for a dog that could not only help me with the challenges I face in my everyday life, but that could also be a source of happiness through cuddles and play time."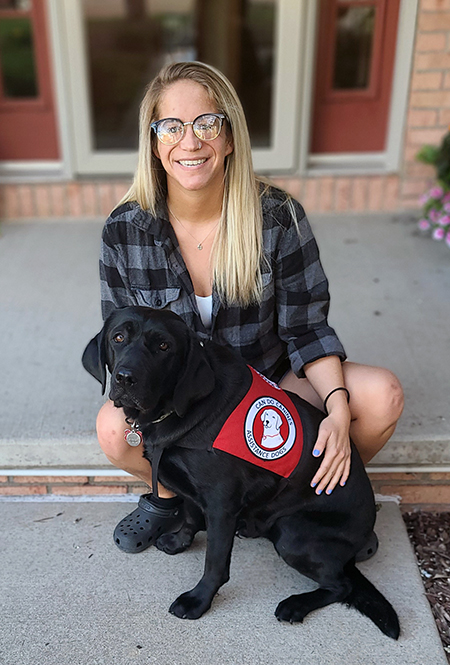 She was paired with Raven, a 2 1/2-year-old black Lab. Megan was initially unsure about how Raven would integrate into her life, but says, "The best way to explain the feeling of bringing Raven home is that it just felt so right."
Customized as a Hearing Assist Dog for Megan, Raven alerts her to sounds, including the doorbell, an oven timer and a smoke alarm. Although Megan is able to hear with the assistance of a hearing aid, there have been many times she has missed things, including someone trying to get her attention. Prior to working with Raven, she would attempt to overcome those challenges by informing classmates or colleagues around her of her hearing issues and asking them to tap her on the shoulder if she was not responding. In the home environment, the struggles she faces are most prominent when her hearing aid is turned off, such as when she is sleeping or in the shower and the fire alarm goes off. In the past, she's been fortunate enough to have others at home when this happened, but now she can truly rest assured, knowing she can rely on Raven to have her back.
"Raven alerts me by pawing at my leg or 'booping' me with her nose whenever there is a sound she is trained for," explains Megan. "There was a time when I was in my room folding laundry and listening to music when unbeknownst to me, I was needed in the kitchen. Raven was able to not only alert me, but also show me who it was that was calling my name."
Megan found that the easiest part of the training process was establishing a bond with Raven, due to the lab's friendly and happy demeanor. That bond has only gotten stronger over time. Despite their quick bond, though, Megan learned she would have to change her communication style to be truly successful with Raven. "Growing up with hunting dogs, I am used to using a firm tone when working with dogs," explains Megan. "However, Raven is a 'soft' girl and needs the high energy, preppy tone of voice to be most successful."
One of the things about life with Raven that Megan has become most grateful for is that she has been able to indulge her love of music, which she recognizes is "ironic" for someone who has profound hearing loss. "I am a huge fan of music," she says. "Now that I have Raven, I am able to fully unplug from the real world and get lost in music…without the fear of missing someone at the door or someone saying my name."
With Raven by her side, Megan is not only able to enjoy the present more, but she is also excited about what's still to come in the future. "I am looking forward to when I have children, and Raven will be able to alert me when the baby is crying," Megan says. "It will no longer fall completely on my partner when the little one wakes up in the night."
She admits, "I can't believe I [went] so many years without a service dog," and she is thankful for the time and resources that the Can Do Canines team put into training Raven. With Raven by her side, she has been able to find "an added sense of security" that she had not gotten to experience before.
"I am most grateful for the independence Raven gives me," says Megan. "I no longer need to rely on others."
Thank you to all those who made this partnership possible:
Puppy Raiser — Federal Correction Institution - Sandstone
Great Start Home — Kim & Tyler Heil
Whelping Home — Sheryll Fonseth-Lais
Special Thanks — Katherine & David Thomas, Stanley Correctional Institution
Field Trainer — Mona Elder