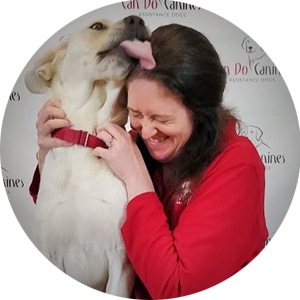 I oversee everything to do with the dogs and with clients/graduates. The majority of my job is managing the staff that handle the day to day decisions and functions of our program.
I live in a small town west of Minnetonka with my fiance, Jay, and our two small dogs. Jay owns a small business so any extra time I have is spent helping out with there or with my home remodel.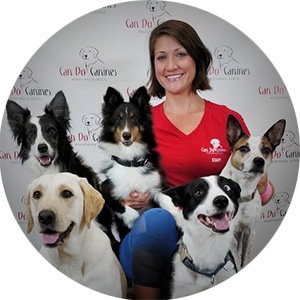 My day-to-day is spent helping our staff, volunteers and program dogs navigate successfully through our training program. I'm so proud to work here, and to see Puppy Program improve and grow every day. The best part of my position is seeing dogs go from puppies to their full potential.
I am also a volunteer with Can Do and have had many dogs as a foster- so for the volunteers out there- I GET IT!
In addition to program dogs, I also have two dogs of my own. We compete in agility, obedience, and have started herding recently.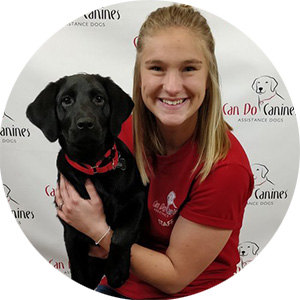 I have been here since 2017 after starting as an intern while in college. I graduated with a degree in Animal Science from the University of Minnesota (Go Gophs!) with the hopes to pursue a career as a trainer. Can Do was the perfect place to fulfill that dream where I get to work with people and dogs!
I am in charge of coordinating our foster homes as well as teaching classes. I also head up our FETCH program at the University of Minnesota, helping students care for Can Do Canines living on campus.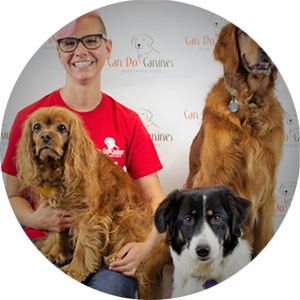 With a background in obedience and agility instruction, I love watching dog and handler teams learn and grow in their skills and experience. A master dog trainer lives inside every volunteer - helping them to raise and train capable, confident, and enthusiastic dogs is my jam. Seeing each dog's skills and strengths matched and tailored to meet their client's needs is absolutely the icing on the cake. It's all about the journey!
I currently share my home with 3 resident dogs, a rotation of program dogs, one cat, and a very patient and animal tolerant husband. In my spare time I enjoy training and competing with my personal dogs in agility, rally obedience, disc, and just about anything that the dogs find fun and strengthens our bond. In between time spent with dogs, I also love to travel.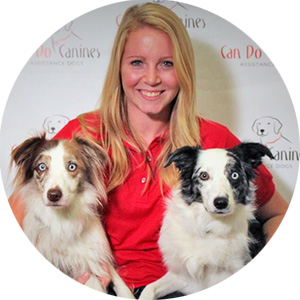 I have been with Can Do Canines since July 2014 and was a volunteer helping out before then. I coordinate all things prison-related, like transport drivers, dog swaps, bootcamps, move-in dates and more. I teach at a few of the prisons weekly as well! Teaching others how to train dogs is something I really love and doing it in the prison setting is extremely rewarding.
I have 2 border collies of my own and am currently puppy raising Tonks, a golden retriever. I love volleyball, photography, all things Harry Potter and spending time relaxing outside when the Minnesota weather allows it.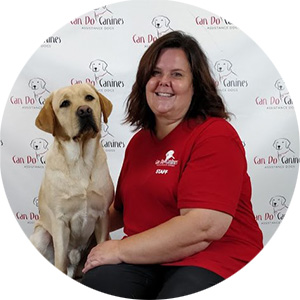 Having made my living in dogs for the last 30 years, working for Can Do Canines has been the most soul fulfilling thing I have done. I run the prison programs at our three prisons in WI. It is amazing to watch the amount of lives these dogs touch and make a difference in others lives while moving along their paths to become super heroes. I am honored and humbled to be part of it. I live in Eau Claire WI, where when I'm not working with dogs, you may find me with a hammer, rolling pin or camera in my hand.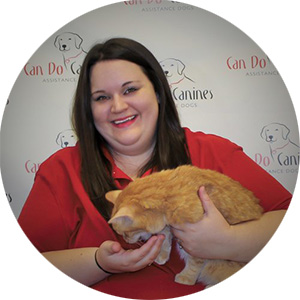 I'm a Certified Veterinary Technician with 8 years of clinical experience. I have now been with Can Do Canines since 2016. I help manage all the medical needs of our dogs in Puppy Program, including organizing their records and vet visits on site and with our veterinary partners. I also help keep Puppy Program organized- among other things.
I have 4 cats and a career changed dog who is now my best bud. In my spare time, I like to cook, hang out with friends and see all the movies!