Logan and Autism Assist Dog Gypsy
By Susan Byers
A free-spirit. A rover. A wanderer.
These are apt descriptors for a rescue dog, particularly one named Gypsy. And in some ways, it's a fitting depiction of a young boy named Logan from Spring Lake Park, Minnesota, with a tendency to wander.
This is the story of how these two kindred souls found each other.
A rescue organization in northern Minnesota discovered Gypsy, a female German Shepherd mix. From the beginning, it was evident she was smart and responsive with a loving disposition—all qualities of an excellent assistance dog—so the organization donated her to Can Do Canines for training.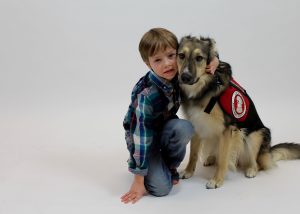 While Gypsy was being evaluated, Aaron and Kimberly were evaluating support services for their son Logan, who was newly diagnosed with Autism. Logan frequently wanders when distracted, often becomes overwhelmed to the point of emotional meltdowns, and struggles in social situations. When he is stressed or tired (such as after the school day), it would often take a couple of hours to calm him.
"We learned about Autism assistance dogs and we decided that option would best meet Logan's needs," explains Aaron. "We chose Can Do Canines because it was local and within our reach."
After a detailed application process and a waiting period, Logan had a home interview. Training began a short time later and Logan's parents were delighted to see the effect on Logan.
"Gypsy helps keep Logan on task which makes it easier for him to transition from one thing to the next," says Kimberly. "She also helps minimize the number or length of a meltdown; he is much more content and manageable."
Although only a first grader, Logan is able to help care for Gypsy's grooming and feeding on a daily basis—important tasks that help keep him engaged with Gypsy and less likely to get distracted or wander away. "Logan focuses on holding Gypsy's leash and Gypsy focuses on keeping Logan out of harm's way," says Aaron. "It's a very sweet relationship."
Of course, that's not to say it's easy. Having an assistance dog, particularly one trained to serve a child with autism, requires a lot of work and affects the whole family.
"We didn't realize how much would go into training – not just for the dog, but for our entire family," says Kimberly. "At times, it can be overwhelming."
Aaron agrees. "Our older child loves the dog and wants to play, so sometimes we have to remind him that Gypsy isn't simply a family pet, she's Logan's service dog."
It's a delicate balance, tending to the needs of the child, the needs of the dog, and the needs of the family. However, for the Cailliers, the benefits far outweigh any inconveniences.
"We are eternally grateful for the changes we observe in [Logan], knowing Gypsy had so much to do with that," Aaron says tearfully. "We thank all the wonderful people who played a role in bringing her to us—from the puppy raisers, to the trainers, to the donors."
"We understand an Autism Assist Dog like Gypsy is not simply supporting Logan's development today, she is making an impact that could affect his whole life," adds Kimberly. "It's hard to express how grateful we are for that gift."
As Logan and Gypsy make their way, there is still a learning curve and some uncertainty ahead. But one thing is certain: Life is a bit calmer now that these two beautiful wanderers have found one another.
Thank you to all those who made this partnership possible:
Puppy Raiser: Mary Zielund
Special Thanks: Jerry Schendel, the Lian family
Team Sponsor: Kathy and Rand Patton
You: Thank you for your donations!