Xerxes, one of Can Do Canines most recent graduates, will be leading a life quite different from other graduates. The Black Labrador Retriever was placed not with a person with a disability, but with the Orono Police Department.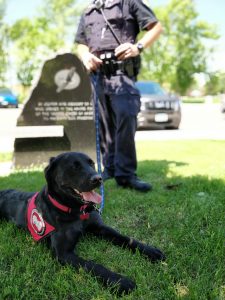 He's a Community Service Dog, and the first in Minnesota to serve in this capacity for a police department. As a member of the Orono Police Department, Xerxes will have the important role of comforting and connecting with individuals impacted by trauma or experiencing a mental health crisis in the community.
When individuals are experiencing fear, anxiety, or a mental health crisis, "Having a K-9 partner introduced into those situations can have a calming effect," says Orono Police Chief Correy Farniok. The department has seen that when a uniformed officer is introduced, it tends to escalate a situation, whereas a dog can be used as a de-escalation technique.
Sergeant Chad Stensrud explains, "There's a department in California that we connected with that they've used [an assistance dog] for probably five or six years in the same manner and they've had just enormous success in doing that."
In addition, Xerxes will participate in public education demonstrations with human officers, helping to increase community engagement by being a hairy conversation starter that makes officers more approachable.
Although Can Do Canines doesn't typically provide assistance dogs in these situations, Al Peters, executive director of Can Do Canines, says, "In this case we decided that this was sort of a match made in heaven. Xerxes was the right dog for this situation. We were really pleased that we were able to develop the partnership, and we're excited about trying something that's new."
Thank you to all those who made this partnership possible:
Great Start Home: Laura Pierce
Puppy Raiser: The inmate handlers at FCI Sandstone
Special Thanks: Darlene Blomberg White
Whelping Home: Verna and Dave Ittner
Breeder Host: Verna and Dave Ittner
You: Thank you for your donations!