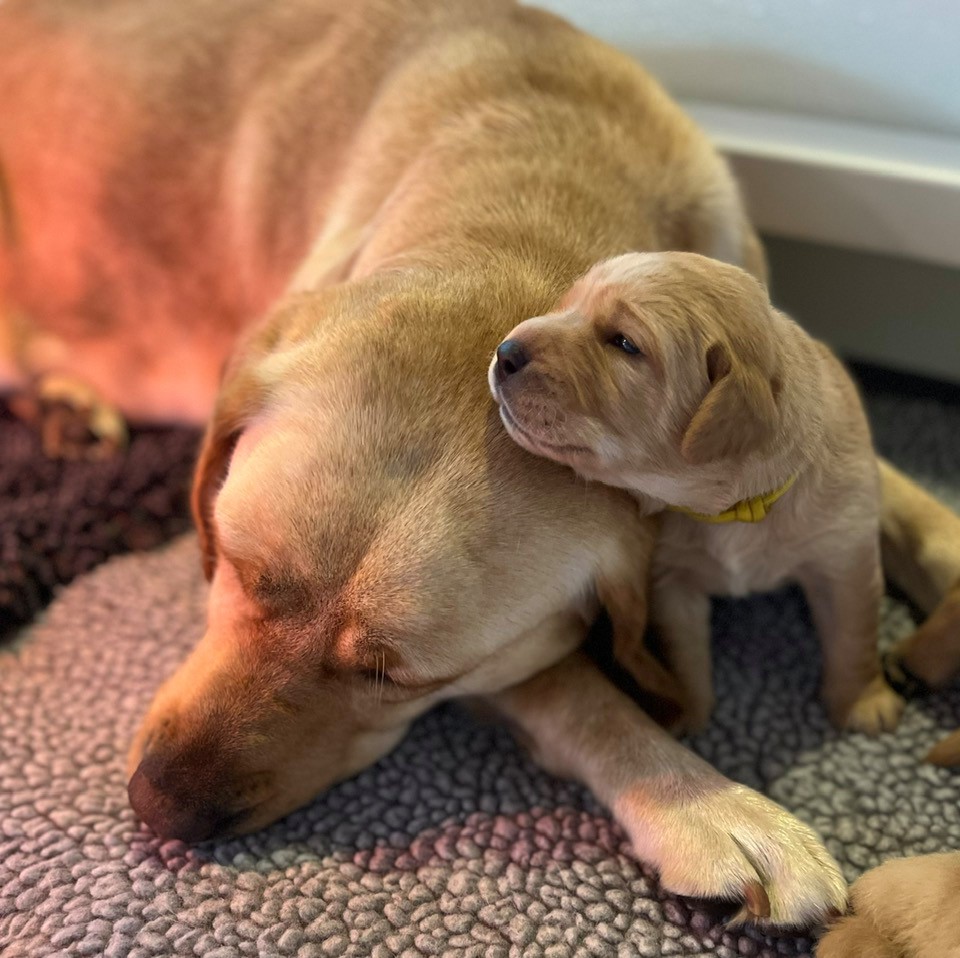 Can Do Canines' Breeding Program is an essential part of our mission of providing life-changing assistance dogs to people with disabilities. Our dogs not only produce puppies that grow up to be superheroes for their clients but also are critical for how we are continually striving to improve the health and quality of our dogs, generation after generation. Breeder Hosts and Whelping Homes are a vital part of that success.  
Breeder Hosts care for our breeding females and males in the same way as puppies in training, with the addition of being available for veterinary and breeding appointments, as needed. Whelping Homes care for a pregnant dog and her puppies from about ten days before the due date through the first 5-8 weeks of the puppies' lives. 
Whelping is a unique niche within our organization. It is where the journey to the graduation celebration begins; it is the first step towards success for the client and assistance dog teams. While short in duration, about six weeks, it is a time-intensive, sometimes tiring, but deeply rewarding experience. The whelper's hands are the first human touch the puppies receive as they are brought into the world. The weeks are filled with effort, but overflowing with love, not to mention cuddles and puppy breath!
Here's what some of our whelping volunteers have to say:
There is nothing cuter than puppies running, unless it's puppies running TO YOU! Puppy breath, slurpy kisses, frog-legged belly flops, nudging noses, excited happy barks, topsy turvy napping positions, wiggly butts and tails, protruding pink tongues and lazy yawns, and learning each dog's unique personality all fill that basket of emotional treasures.
This is a whole new part of CDC that I really didn't know or understand until we did it! I learned so much, it is a wonderful, special event to be a part of that begins at birth and is with you until the puppies graduate with their human.
Bringing these puppies into the world is by far one of the most amazing things we have done. From the second they are born you are teaching and nurturing them to become the best possible service dogs they can be. The 24/7 family (staff) is there for you, even in the middle of the night, and when you just need some reassurance. We have graduated dogs that we are so proud of, from Great Starts to puppy raising, but are even more excited to watch those who started out in our home, to go on and change someone's life!
Our whelping homes are provided with the materials and training needed from start to finish, as well as 24/7 availability from Can Do Canines staff. No prior experience is necessary; whelpers are guided through each step of the process. You provide a loving home and we provide the support! 
If becoming a part of Can Do Canines' Breeding Program sounds interesting to you and you would like more information, contact Karin at kbalgaard@candocanines.org. 
Ready to apply for one of these roles?
Complete the volunteer application here.