GOLDEN VALLEY, Minn, – A well-trained service dog has to be adaptable, ready for anything the world throws at them.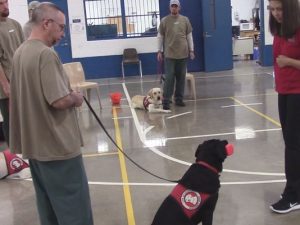 New Hope-based Can Do Canines knows that, and the training their dogs receive takes them to some unusual places. One of them is
Stanley Correctional Institution
in Wisconsin. That's right, puppies go to prison, where they are trained by specially selected inmates.
"How to teach behaviors. They're learning what to do with frustration. They're learning basic dog care and grooming, and nutritional information," said Nancy Weitgenant, a puppy program coordinator for Can Do Canines.
While going behind the razor wire and steel bars can be a bit nerve-wracking at first, Weitgenant is used to it by now. She goes to prison just about every week, because the Can Do Canines live there for about a year. They are assigned to a specially approved inmate at just 4-months of age to be trained.
"They have a kennel and each dog has its own individual crate that is in the cell with their handlers, so they are with them quite often throughout the day," Weitgenant added.
The one thing inmates have plenty of is time, so they work with the young dogs on their assistance skills, while making sure they get plenty of play and exercise. But inmates can't do it all.
"Every couple of weeks, there will be a furlough where the dog will get out with a volunteer for a weekend – sometimes a week – to get socialized. To go to Target, to go for car rides, things the prisoners can't do" said Alan Peters, the Executive Director at Can Do Canines.
Yet, for a full year, these dogs always go back to the prison and their assigned inmate, making for a strong bond.
"I, personally, have had multiple inmates come up to me and make statements such as they might be better parents when they leave. That they've learned how to make better choices, that they feel a worth and that they feel a value," Weitgenant said.