MAPLE GROVE, Minn. —Most everyone loves puppies, but having a living room full of them can be a challenge.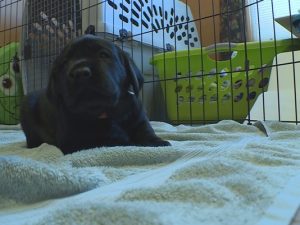 "Oh, it's a lot of work," said Kolleen Herr, a volunteer with Can Do Canines. Kolleen's living room is filled with the joyful sounds and smells of five puppies, only they don't belong to her.
"I am a whelping home for Can Do Canines. And, what we do is – the mom comes to our house one to two weeks prior to delivery."
Kolleen actually helps with the birthing process, then over the next five weeks she introduces the puppies to different surfaces and textures, tickles their feet, clips their toe nails, and gives them a taste of the sensory world. "We play CD's for them. Street noises, babies crying, kids screaming, telephones ringing just to give them that foundation that they are used to those noises when they go out in public" Herr said.
Perhaps the most important thing Kolleen does is protect the puppies by keeping them in a clean and safe environment. KARE's Cory Hepola washed his hands before meeting and playing with the litter so he wouldn't pass on outside germs that could make the critters ill. It's hard not to fall in love with these puppies. Kolleen does. This is her fourth set with Can Do and every time there's a tearful goodbye, although she does track the canine helpers as they get older. "It's about the end game that two and half year point where they get assigned to their client," Herr explains.
"The happiness that they have that they can continue on with their life. This dog is either going to save their life or it's going to make it considerably easier."