Roger Tottingham & Mobility Assistance Dog Whitney
Author: Sarah Schaff
As a retired Navy veteran residing in Oronoco,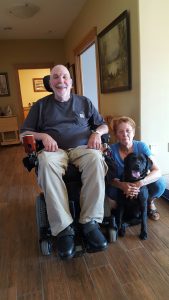 Minnesota, Roger Tottingham is no stranger to overcoming challenges and taking care of business as efficiently as possible. However, when he was diagnosed with Multiple Sclerosis 42 years ago, his lifestyle shifted and he became more reliant on help from others.
Roger was able to stay active for a while before needing to use a powerchair, and his wife, Linda, has been a constant, necessary source of his care. Maintaining his independence is one of Linda and Roger's biggest hopes for the future. That is why he decided to apply at Can Do Canines after finding out about assistance dogs through the local Veterans Affair Department.
Roger was partnered with a Mobility Assistance Dog, a bright, wiggly Lab named Wynn. The team had completed training and were working for many months before Wynn suddenly fell ill. The Tottingham family took extraordinary care of Wynn who was diagnosed with Addison's disease. The disease, which is rarely found in dogs, results from an increase or decrease of hormones secreted by the adrenal glands. Symptoms include lethargy, vomiting, shaking, painful abdomen, and increased thirst and urination. Unfortunately, Wynn was unable to continue working so she retired early and is now happily and medically cared for by a new family without a need for a Mobility Assistance Dog.
Roger waited patiently at the top of the Can Do Canines list for a successor Mobility Assistance Dog. His next match was certainly serendipitous as Roger was partnered with Whitney, Wynn's sister. Whitney picked up right where Wynn left off and has become a remarkable canine companion to Roger. She gets so excited to help and loves working almost more than anything in the world! She tugs open and nudges closed doors and drawers, pushes the handicap door button in their home between the house and the garage, picks up dropped pens, cards, pieces of paper, his wallet, cellphone, and even nail clippers. If Roger needs someone else to assist him, Whitney can get the phone or alert Linda if she is home. Without an assistance dog, if Roger dropped his keys, he'd have to wait for someone to help get the item back to him. "She's good for the family," Rogers says, "and myself."
They've become such a bonded team that Whitney can resist the temptation of friendly strangers. Roger describes, "When people want to pet her, she'll look at me first and her tail wags." Whitney has already taken her training to another level—she knows to get her leash off the hook at the door, clean up her toys, retrieve Roger's shoes off the bench every morning and wait while he puts them on, and help tug off his jacket sleeves.
To the teams of people who raised, trained and placed Whitney, Roger expresses his appreciation. "Thanks … she's doing a very good job. And they did a good job!" Because of donors, fundraisers and volunteers like you, Roger and Wynn are a successful team who continues to learn and train every day.
Thank you to all those who made this partnership possible:
Puppy Raiser: Frank and Vicki Ernst
Field Trainer: Julia Breza
Prison: The inmate handlers at FCI Waseca