Greg and Hearing Assistance Dog Duke
By Amy Verrando
Greg was only in his 20s when he learned he had Meniere's disease, an inner ear disease that causes progressive hearing loss, tinnitus, and, in some cases, vertigo. Over the years, Greg received two cochlear implants to help combat his hearing loss.
Samantha, Greg's daughter, lives with him part-time. Samantha worried about her father. "She was pretty nervous about me being alone at night, smoke alarms specifically," Greg says. And he was afraid he would sleep through his alarm, and found himself unable to sleep soundly through the night. So when Samantha suggested her father look into an assistance dog, Greg agreed.
After applying to Can Do Canines, Greg was matched with Hearing Assist Dog Duke. "[Duke] actually came quite a bit quicker than I had anticipated," Greg says. "Within four, maybe five months."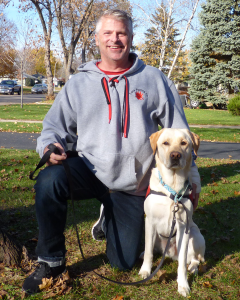 For Greg, the most difficult part of the training process has been taking his previous experience training hunting dogs and adjusting his techniques to train with an assistance dog. "[It's a] completely different beast," he says.
On a daily basis, Duke alerts Greg to different sounds such as doorbells, the tea pot, alarm clocks, oven timers, and the telephone by gently nudging or pawing him. Of all the tasks Duke performs, Greg firmly believes Duke's favorite to be waking him up in the morning. "He wakes me every morning. He either nudges my cheek or he'll give me a little lick," he explains.
"My sleep patterns have absolutely changed for the better," Greg exclaims. Before Duke, Greg would wake up throughout the night and be unable to fall back asleep, resulting in perpetual exhaustion. "I would usually average around 4 to 5 hours of sleep a night before Duke," he explains. Thanks to Duke, Greg is able to sleep soundly knowing Duke will rouse him if needed.
Duke has already become an integral part of the Flanagan family, having been included in camping trips, pontoon rides, and grocery store runs. When asked if Duke has made the difference she wanted for her dad, Samantha replies with a firm, "Yes."
The entire family is extremely grateful for the newest addition. "I just want to thank every single person that's involved in Can Do Canines because what you're doing matters and is really, really beneficial to people like me. So I just want to say thanks to everyone," Greg says.
Thank you to all those who made this partnership possible:
Puppy Raiser: The Schlief family
Dog Donor: Martha Anderson
You: Thank you for your donations!