The pandemic has caused an increase of accessibility awareness, namely how many people struggle with barriers in society that able-bodied people don't realize. For instance, facemasks make it impossible to read lips, which people with hearing challenges sometimes need to do.
That has been the case for Rita, who started wearing hearing aids over 25 years ago. Yet, hearing aids, alone, can be problematic, as Rita describes, "If you're in crowded situations you hear noise, but you can't decipher the noise from the words." Even though hearing aids can amplify some things, she still relies on reading lips and being close to sounds. Facing the new challenges this past year, Rita's world has shrunk to staying at home more. Being in the house by herself is not ideal either though She might not hear important sounds that typically keep people safe, including alarms and the presence of others, especially when she takes off her hearing aids.
So Rita looked for further support. A friend of hers is a long-time Can Do Canines volunteer, and suggested applying for a Hearing Assist Dog from the organization. Rita and her family were excited by the idea of a dog that could improve her quality of life. She was accepted to the program and waited just a few months before her life changed for the better, thanks to the skilled companion matched with her.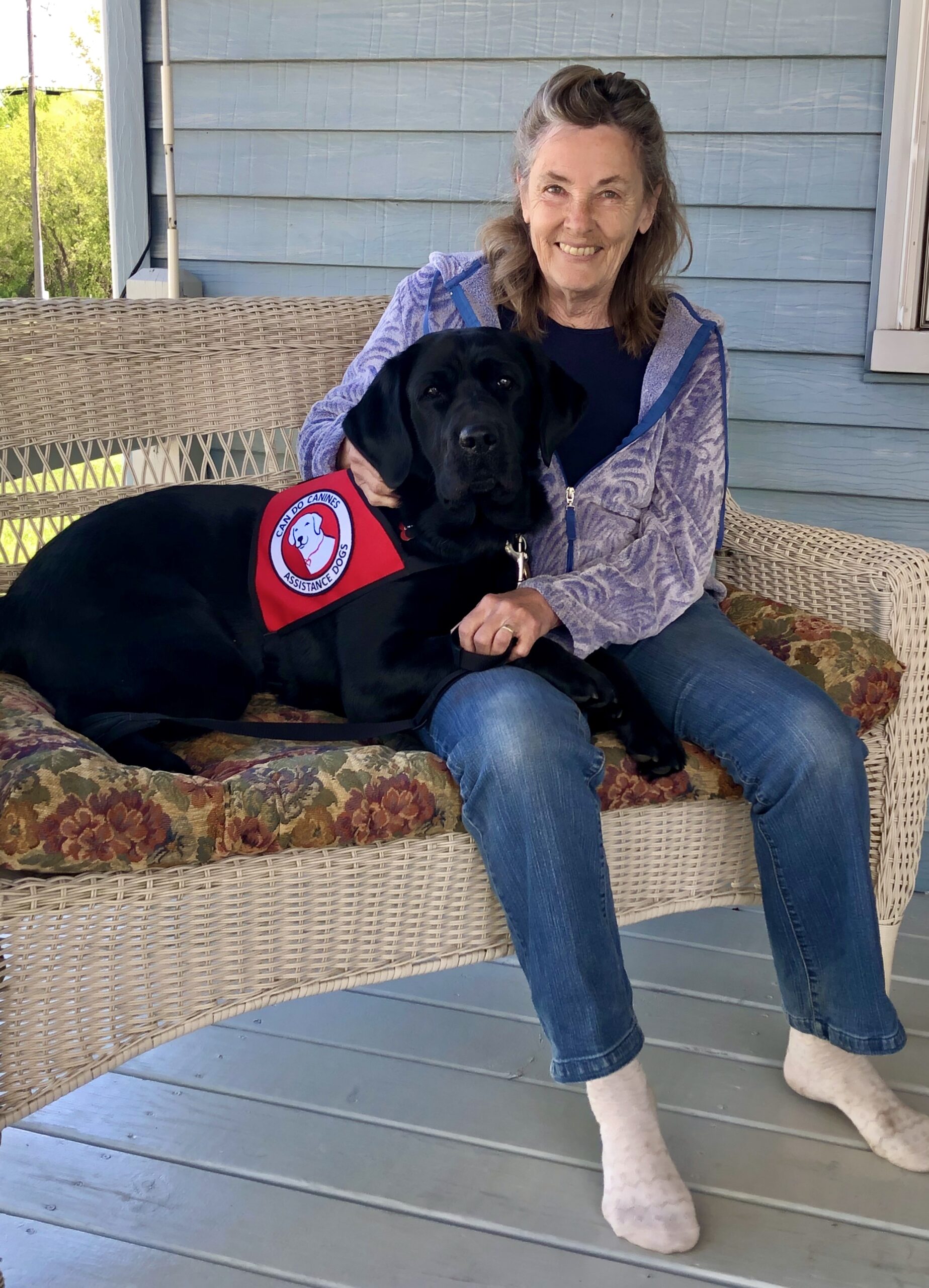 Bringing Safety to Silence
Fidget, a 2-year-old Labrador Retriever, is an exceedingly enthusiastic worker.  For such a sweet, little dog, Fidget has brought tremendous change for Rita and her family. Most alerts and notification tones are too high for Rita to detect, so she had to focus on one task at a time since she couldn't rely on a timer. If someone knocked on the door and Rita didn't see them, she didn't know anyone was there. She says "I would watch the clock A LOT," but still ended up burning things or evaporating her boiling water before she had Fidget. It's exhausting for Rita to compensate with her other senses and remain alert in case she misses an important sound. She adds that it's constant work to focus on deciphering a sound, then process what it is and how to respond.
Fidget now allows her to feel more independent and productive. Rita can confidently multi-task without the constant checks on visual reminders, and she no longer needs to guess what a noise is and where it's coming from. Fidget alerts her to the kitchen timer, microwave, tea kettle whistle, door knocks, and smoke alarm in the house. If they are out in public, Fidget will notice when an object falls to the ground and let Rita know since she cannot hear it hit the floor. Fidget also can recognize Rita's name and will alert her to a person calling for her. An incredible bonus is, "When my hearing aids slip out of place, they will give a shrill sound which I can't hear. Fidget has actually alerted me to my hearing aids shifting and I was able to readjust their placement!"
Thankful for the Great Work Invested in her Great Worker
Rita tells everyone who is involved with Can Do Canines and made this team possible, "Thank you all so much, you've done a great job. It really is the most amazing work helping one another."
Rita also expresses that since taking Fidget home, "I feel a lot more confident being on my own, being with her." She and her husband, Ken, look forward to "safe freedom" as they enjoy more traveling experiences, saying that they can relax on their own adventures without worrying about Rita missing an urgent alarm. Ken is grateful for Fidget giving Rita a chance at a more engaged, independent life. In fact, seeing this team's happiness is not something that takes the ability to read lips; it's obvious to everyone.
Thank you to all those who made this partnership possible:
Great Start Home: The Waller family
Puppy Raiser: Jackson Correctional Institution
Special Thanks: The Merkel Family, The Krob family
You: Thank you for your donations!