Carson is a 9-year-old boy who, like most boys his age, can be hard to keep still with his growing sense of being invincible. His excitement is contagious, his is energy exuberant, even with the diagnosis of autism. If living with a disability means having limitations, no one told Carson, who celebrates the world he sees but sometimes finds overwhelming.
His mother, Jennifer, says she had noticed that he lost speech and wasn't hitting milestones when he was 18 months old. He showed some emotions and thrived as a happy child but was unable to play or interact with other people in the typical sense. At a very young age, Carson would stare at spinning or moving items. He wouldn't speak to people. Carson was already in early intervention daycare when the family received an official diagnosis of autism and then added more therapies and services.
Jennifer and her husband started thinking about an autism assistance dog when Carson was about 4, after speaking with a friend who went through the process. She saw many potential benefits for their similar situation and applied. The family was on the waitlist for almost four years, but it was worth their patience and time.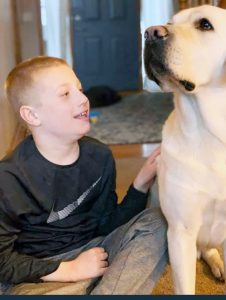 So Happy Together
Zag is a 2-year-old yellow Labrador Retriever that loves the simple things in life, such as cuddling and walking with his person. Jennifer says, "Zag is such a great dog! It's like he knew what he was doing!" She jokes that it took more work to help Carson through the transition. Carson is now initiating play with his peers and wanting to play with kids at school. That has never happened before. Jennifer attributes this milestone to him playing fetch with Zag.
Being sensory-motivated, Carson seeks out movement or textures. His parents would constantly have to redirect him to walk or focus to complete a task. There are times when the family has been in a store and Carson has pulled to get something he wants. Since Carson is tethered to Zag, he cannot break from the family because Zag will stop moving and become an "anchor," giving his parents time to help him regroup so they can walk safely in parking lots and public spaces. Jennifer says, "It's funny because we would hold Carson's hand [on walks], and he would pull constantly and try to run away. But when he's with [Zag], he doesn't do that!"
Carson now shows affection and social skills in communicating with Zag. He has also learned responsibility in caring for Zag by helping with feeding, exercising, sharing and playing. The boys will seek each other out and care for each other, encouraging engagement from the other.
Grateful for their Furry Family Member
The family embraces the new partnership as they spend more time together, going more places than were possible before Zag. Carson shows increased tolerance and a relaxed manner when he's out, being less overstimulated since Zag provides a focus for him. They are excited for the potential of family trips that everyone can enjoy away from their Elk River home and hope that Zag will accompany Carson to school soon.
Thank you to all those who made this partnership possible:
Great Start Home: Sara Vander Lugt
Puppy Raiser: Stanley Correctional Institution
Special Thanks: Sara Vander Lugt
Whelping Home: Julie Jarrard
You: Thank you for your donations!